Rabbithole Projects Presents EOArts Performance Art Series 2016
Press Release
•
May 13, 2016
The Dumbo-based gallery will host works of emerging performance artists every Friday in May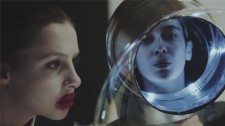 Brooklyn, NY, May 13, 2016 (Newswire.com) - ​​​​​Rabbithole Projects is pleased to announce EOarts Performance Art Series 2016, a four-night event that will survey international interdisciplinary practices based on performance, process, and action art. The event will take place every Friday in May and will count on the works and collaborations of NoodleRice Studio, Huisi He, Giacomo Colosi, Veronica Peña, Hector Canonge, Angeli, Emery Medina, Patrick Scheid, and Kika Espejo.
Curated by The Espejo Organization for the Arts (EOarts), the program's goal is to share the power that performance art practices offer for personal and social change. EOarts wants to create an open and inviting platform for artist and the public to meet and collaborate, a space to expand the influence of art forms based on symbolic action and their appreciation.
On May 6th, Session 1 will present "Traps" by Huisi He, a body endurance performance art piece that illustrates the outside obstacles and internal struggles that the Chinese-born artist has experienced when pursuing her dreams. This same night, the audience will be able to witness the mesmerizing piece "Untitled 6," a performance created by NoodleRice Studio and put on by Yao Zhang and Brian O'Mahoney that stages a surreal body transformation scene that attempts to explore the way the human body is understood in contemporary culture.
Session 2 will be presented on May 13th where Veronica Peña will perform "Alien of Extraordinary Ability," a performance that explores issues related to migration, cultural identity, and border politics inspired by the process of applying for an O-1 visa in the United States. Giacomo Colosi will perform "Bags," an ongoing performance that investigates the limits between art and life. Using a raw, humorous, and absurd style, the Italian-born artist will invite the audience to recollect their own memories based on their personal belongings. "De Lo Ajeno (Of Others)" will be the last addition of the night. Born from the collaboration between Veronica Peña and Hector Canonge, this piece explores Hispanic stereotypes in relation to national and personal identity. Based on the perceptions that Americans have of Spanish and Latino cultures, and taking into account the historic ties between Spain and South America, these Spaniard artists create a performance that establishes possible dialogues and readings of otherness.
Session 3, on May 20th, will be focused on participatory performance pieces. Angeli will present "Bone Minus One," an ongoing performance that will individually invite those present to hold an animal skull between them and move together through the gallery. Holding death, Angeli's performance creates a space to question and challenge socio-cultural constructions of identity. A masked woman in bridal attire is presented to the audience embodied by Emery Medina in "Nightmare in White," an ongoing performance piece that stages what is left of a women who chased after the American dream and marriage and was broken by it. Medina's work explores themes of pop culture, social media usage, the female body, and the position of women in our society.
Session 4, on May 27th, will be the last day of this series. This closing night will count with the performance "Over" by Patrick Scheid. This frenetic and cyclical performance piece inspired by the writings of Jorge Luis Borges will present an anachronistic and solitary man that attempts to transcribe the few remaining tomes in his library. While the pages disintegrate, the American-born artist invites the audience to observe the irony of a dissonant ritual intended to exert control but that ultimately fails. Kika Espejo will perform "Palabras de Aliento" (Words of Breath) where the artist will act as a translator for messages of hope. Espejo invites the audience to express their encouragement words to the world by transmitting their messages into her mouth. In this work, the artist explores issues of social consciousness and the use of the artist's body as a medium for social change.
All performances will take place from 7:30p to 10:30p at Rabbithole Projects Gallery, the art space located on the waterfront of the Dumbo Arts District in Brooklyn.
Source: The Espejo Organization for the Arts
Related Media
Additional Links