QX Launches Automation CoE to Accelerate Digital Transformation of Its Finance, Accounting and Recruitment Processes
Press Release
•
updated: Sep 26, 2019
QX unveiled virtual workers ADAM & EVE as a part of its Automation Center of Excellence (CoE), specialising in Robotic, Cognitive and AI/ML technologies. These virtual workers will significantly reduce the time and efforts invested by operations teams in time-intensive, repetitive and mundane tasks.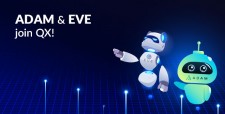 SKIPTON, England, September 26, 2019 (Newswire.com) - QX Ltd, a leading provider of global business process management (BPM) services, has launched virtual workers ADAM & EVE as a part of its Automation Centre of Excellence. The CoE focuses on building RPA and Cognitive solutions that drive process efficiency and improve accuracy by automating labourious, repetitive and mundane activities. QX possesses deep operational expertise in the areas of finance, accounting and recruitment. QX's Automation CoE leverages the company's operational experience and combines it with automation excellence to build and deploy virtual workers powered by RPA and AI/ML (Artificial Intelligence and Machine Learning).
"QX 3.0 – our vision for the future – is founded upon delivering quality and excellence to our clients through a combination of the best People, Processes and Platforms. The Automation CoE contributes to our platform strength and will play a significant role in helping us realise our vision," says Chris Robinson, Executive Chairman.
Speaking about the role that automation would play in QX, he said: "An army of virtual workers powered by ADAM & EVE are joining our operations staff as 'buddies', taking care of time-consuming, laborious and repetitive activities, allowing our employees to focus on high-value tasks. The best part is that the Automation CoE will enable our clients to take a major stride in their digital transformation journey without any costly investment in infrastructure or software technology."
​Mahesh Jain, CEO – QX F&A, spoke about the application of the technology: "We are betting big on robotic process automation and cognitive solutions and see an opportunity to automate a wide range of finance, accounting and payroll activities. I am confident that this initiative will help us pass on significant cost and efficiency benefits to our clients."
"The chasm between operational teams on the floors and automation teams is one of the main reason behind limited success of RPA in BPO/KPO space," says Sourav Patnaik, Sr. Vice President and Head of Intelligent Automation. "The QX Automation CoE works closely with the operations teams and clients to identify activities that can be automated. Access to in-depth process understanding and business context enables the automation team to devise highly effective solutions that work in the real world."
Elaborating on the automation solutions, he said, "Our solutions are powered by ADAM & EVE. ADAM takes complete control of all repetitive, time-intensive, mundane tasks, while EVE handles all the cognitive/AI/ML-based activities. I see ADAM & EVE as 'buddies' that will free our staff from performing robot-like repetitive activities and allow then to focus on activities that require skills unique to humans: creativity, critical thinking and strategy."
Source: QX Ltd
Additional Links