QWERX Receives Patent for Device Authentication and Communication Protection on a System on Chip
Press Release
•
Dec 19, 2022
The patented technology is designed to be integrated into SoC devices, enabling inter- and intra-chip and device communication.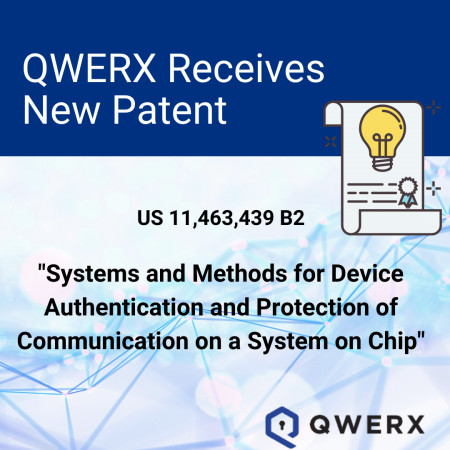 MERRIFIELD, Va., December 19, 2022 (Newswire.com) - QWERX, a software company that delivers secure, quantum-proof enterprise machine identity management and authentication, today announced that the U.S. Patent and Trademark Office (USPTO) had granted patent US 11,463,439 B2 to QWERX for "Systems and Methods for Device Authentication and Protection of Communication on a System on Chip."
This patent raises the QWERX patent portfolio to nine issued and two pending patents, and further validates the company's commitment to providing next-generation solutions for secure device authentication and data protection. The patented technology provides an integrated and secure authentication mechanism on a System on Chip (SoC) that enables users to securely authenticate and protect their communications.
"We are proud to receive this patent, which acknowledges our commitment to innovation and excellence," said John Ellingson, Chief Technology Officer (CTO) of QWERX. "Authenticating network devices is essential in electronic communications. With this patented technology, we will enhance our product portfolio to include embedded systems that will ultimately protect myriad devices like those in the Internet of Things (IoT). The technology we are developing overturns the outdated notions of shared secrets and stored credentials that are the root cause of so many network vulnerabilities today."
The patented technology is designed to be integrated into SoC devices, facilitating communication both inside and among devices - providing an easy-to-use authentication mechanism that is both secure and efficient.
"The USPTO is an internationally recognized government leader in intellectual property protection. QWERX appreciates USPTO's rigor and acumen in evaluating and granting the highly technical patents within our portfolio. More broadly, we applaud USPTO's efforts under director Kathi Vidal to incentivize innovation and encourage entrepreneurship by safeguarding inventors' unique ideas," said QWERX Chief Operating Officer (COO) Randall Fort, a former head of intelligence at the U.S. Department of State and U.S. Treasury.
About QWERX
QWERX, Inc. is a software company that delivers secure, quantum-proof machine identity management and authentication to the enterprise. The company's patented authentication protocol eliminates 80% of external network breaches associated with stolen digital credentials — by completely eliminating the use of credentials that can be stolen. QWERX has revolutionized the science of secure endpoint authentication by automating orchestrated continuous verification of all devices across a network with rotating, symmetric keys that disappear after each use. Learn more at www.qwerx.co
Source: QWERX