QUANTUMEM to DEMONSTRATE 'QMFabricFlash' BEST-in-CLASS NVMe-of TECHNOLOGY PERFORMANCE in SC19
Press Release
•
updated: Oct 16, 2019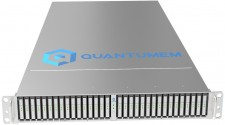 VANCOUVER, British Columbia, October 16, 2019 (Newswire.com) - QUANTUMEM Technologies today announced achieving new best-in-class NVMe over Fabric (NVMe-oF) storage performance. The company will be revealing their latest NVMe-oF product, powered by QUANTUMEM "QMFabricFlash" technology, at the upcoming Super Computing 2019 (SC19) in Colorado Convention Center, Denver, CO.
QUANTUMEM's first released "LightHeart" at FMS 2019 in Santa Clara, CA, is an ASIC-based NVMe-oF™ Ethernet JBOF (Just A Bunch of Flash) for Enterprise Datacenter SSD Form Factor (EDSFF) storage platforms. With a unique and innovative design for next generation datacenters, this best-of-class performing storage, combined with EDSFF E1.L SSDs, achieves super-high densities at the same time.
Accommodating up to 32 hot-swappable EDSFF NVMe SSDs, QUANTUMEM "LightHeart" JBOF provides a storage capacity of up to 1000TB in 1U rack space. In addition, the integration of ASIC bridges enables "LightHeart" to support direct connectivity with up to six 100Gb/s Ethernet ports, meeting the demanding needs of today and tomorrow's data centers. The internal design provides PCIe Gen3 NVMe SSDs for non-blocking access.
QUANTUMEM's "QMFabricFlash" technology provides complete end-to-end solution for NVMe-oF applications. It will accelerate workloads and lower latency to boost application performance and business productivity. This technology provides an ultra-high bandwidth, low-latency fabric for NVMe communication, and has demonstrated a new record-setting NVMe-oF peak performance of 16.2M IOPS, and 72GB/s throughput in 1U rack space. This solution, supporting both x86 and ARM-based compute and storage nodes, is ready to replace legacy fiber channel SANs with standard Ethernet and NVMe-oF.
With the advent of cloud storage, AI, machine learning, HPC, video data streams and edge devices, data centers have to optimize applications and infrastructure for new types of workloads. They must meet big numbers of parallel user (IOPS), high network traffic (GB/s throughput), quick response (microsecond low latency) applications, meet data center and rack level power constraints with efficient power design (IOPS/Watt) and reduce the number of racks needed for storing more data than ever. Today's general-purpose data center architectures are inefficient and can carry resource and cost overhead. "QMFabricFlash" technology provides end-to-end and purpose-built solutions. The innovation enables storage cluster, scale out /up capacity, performance to multiple petabytes and millions of IOPS in small rack space.
QUANTUMEM is defining the future of disaggregated NVMe-oF. The team is focusing on simplifying and optimizing NVMe to make the impossible possible, to take your infrastructure to the next level. QUANTUMEM will demonstrate these technologies at SC19 booth #2252 in Colorado Convention Center, Denver, CO on November 18-21, 2019.
About QUANTUMEM
QUANTUMEM Technologies is a privately held startup in Vancouver, BC Canada. It took on the challenges of AI and real-time processing, green power saving data center and next generation data center requirements. The result: QUANTUMEM is focusing on and building next generation solutions for efficient power design, growing capacity, performance challenges facing data center today and tomorrow.
Source: Quantumem Technologies
Additional Links