ProposalHelper and NetQuarry Bidspeed Announce Strategic Partnership
Press Release
•
Oct 7, 2021
Solutions to modernize the bid and proposal industry to reduce the cost of doing business and increase access to government contracts for all companies. From business development, sales, to proposals - the industry's largest one-stop partnership.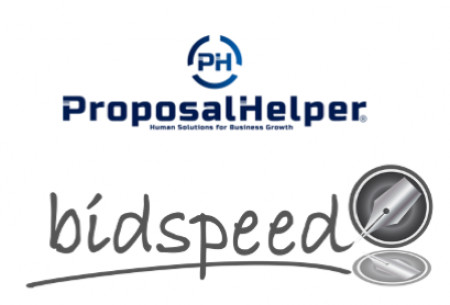 HERNDON, Va., October 7, 2021 (Newswire.com) - ProposalHelper and NetQuarry today announced the signing of a strategic partnership to bring the most comprehensive and robust business development, capture, and proposal solutions to the federal, state, and local government contracting industry. NetQuarry's innovative Bidspeed platform will extend ProposalHelper's ability to help identify and qualify bid opportunities, incorporating capture and proposal planning into the process.
With NetQuarry's Bidspeed, ProposalHelper clients will be able to access full business development, pipeline management, capture support, and proposal solutions with a single click, right from within the Bidspeed platform. No need for costly subscriptions that clutter your mailbox.
ProposalHelper has become a market leader and the largest employee-only bid and proposal company in under a decade. "With this strategic partnership, we continue to build on our vision to become a complete one-stop bid and proposal solution provider in the industry. No other company combines lead qualification, capture support, and proposal service modules into a single platform - we are the first, yet again," said Reena Bhatia, CEO of ProposalHelper.
"We are very excited about the opportunity to expand our partnership with ProposalHelper. The combination of NetQuarry's Bidspeed and ProposalHelper's best-in-class offering will be the first complete, end-to-end, business development, sales and proposal solution," said Ryan Reid, President of NetQuarry, Bidspeed founder.
About ProposalHelper - ProposalHelper is the industry's largest employee-only bid and proposal solutions company. We offer modularized bid and proposal solutions to federal, state, local, and commercial companies at fixed prices using ISO 9001:2015 and ISO 27001:2013 certified processes. To learn more about our solutions, visit www.proposalhelper.com.
About NetQuarry - In 2009, NetQuarry launched "Bidspeed", a proven, cloud-based, full-service Government opportunity management and business development system for contractors. Bidspeed has been utilized in various federal, state and local Government programs as a platform of choice in working with businesses across the United States. Founded in 2004, NetQuarry, Inc. is a premiere software engineering firm that builds applications to drive businesses. To learn more about our solutions, visit https://netquarry.com/.
Source: ProposalHelper