Project Scientist Receives $20,000 Donation From State Street Foundation
Funding to provide scholarships for 2018 Expeditions and Summer Academy
Press Release
-
updated: Aug 9, 2017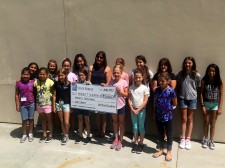 Laguna Beach, CA, August 9, 2017 (Newswire.com) - As part of State Street's continuing commitment to Project Scientist, the State Street Foundation has donated $20,000 to  help support scholarships for girls with an aptitude, talent, and passion for science, technology, engineering and math (STEM) subjects from low-income households in the Orange County area. The donation will also help beneficiaries attend Project Scientist's 2017-18 year-round Expeditions and 2018 Summer Academy.
"We could not be more grateful for the support of State Street, said Project Scientist Founder Sandy Marshall. "They were the first funder to come on board to support our Orange County site and it has truly been a deep relationship through financial commitment, volunteer support, and hosting our girls at their offices."
Last year Project Scientist received $15,000 from the State Street Foundation, which provided funding for twenty-five sixth and seventh-grade girls from El Sol Science and Arts Academy of Santa Ana to attend five school year Expeditions to STEM companies in Orange County. In addition to funding, State Street of Irvine hosted an Engineering Design Challenge/Financial Literacy Expedition and State Street employees serve as volunteers on the STEM Expeditions.
"We felt that partnering with Project Scientist was in perfect alignment with our commitment to education and workforce development," said State Street Representative Kristine Hayes Munson. "We hope that our contribution will help inspire and encourage young girls to join the workforce in STEM-related fields."
About Project Scientist
Founded/established in 2011, the mission of Project Scientist is to educate, coach, and advocate for girls and women with an aptitude, talent, and passion for STEM. Through engagement of top STEM companies, universities, teachers, and hands-on curriculum, Project Scientist Summer Academy attendees discover opportunities available to them in STEM. The need for Project Scientist was based off research that shows girls with a high skill, aptitude, and talent for STEM subjects are not currently served or identified at a young age. Founder Sandy Marshall of Laguna Beach, Calif. created Project Scientist to change the world's view of "who" a scientist is and "what" a scientist does. Project Scientist partners with Harvard University and the University of North Carolina Charlotte to research its educational model and to validate the impact that camp programs are having on those who attend.
Source: Project Scientist
Share:
---
Categories: Non Profit, Sciences, Education
Tags: education, girls in stem, non-profit, project scientist, science, STEM
---