Project Management Radar 2021 - a Look Into the Future
Press Release
•
updated: Sep 27, 2021
The last year has brought a lot of changes to our personal and professional lives. With it, some trends were accelerated while other long-standing practices diminished. To see how this affected the project management field, Teamhood has conducted a survey amongst the project management professionals and gathered the results in the Project Management Radar 2021.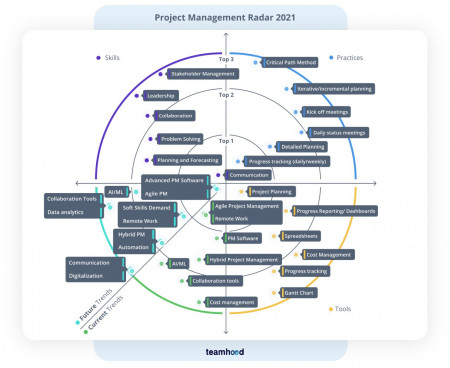 Vilnius, Vilnius, Lithuania, September 27, 2021 (Newswire.com) - The PM radar is a 360-degree overview of the project management field, including skills, practices, tools, and trends named as the most important by the survey respondents. Each category of the radar was rated separately and then put into one report for better overall understanding and evaluation.
The findings of the project management radar reflect the current situation in the industry, allowing us to get a general understanding of what is important now, as well as what trends are coming up next.
Most valued skill - Communication
According to the PM radar respondents, communication remains the most valued skill in project management. This comes as no surprise. Since the importance of this skill grows even larger with remote teams and improved need for effective collaboration.
Most used practice - Progress tracking daily/weekly
Tracking progress is another essential project management practice that was placed number one. Without effective tracking practices, few projects could be carried out to completion. Thus, it is one of the key elements for success in 2021.
Most popular tool - Project planning
Creating project plans is a tedious, but important task. Thus, a well-designed project planning solution becomes a valuable tool, allowing the teams to plan more quickly and effectively.
Top current trend - Agile project management and remote work
Agile has been one of the top project management trends for a few years now, but according to the PM Radar 2021, it now shares the top one position with remote work, a newcomer that made its way to the top during the span of last year.
Top future trend - Advanced project management software and Agile project management
Lastly, with the current situation and rise of remote work. The respondents of the survey said advanced PM software and Agile project management are the top trends to watch. Both allow for smoother communication, improved planning efforts, and easy progress tracking. Nicely tying in all the top one choices of the Project Management Radar 2021.
Most mentioned anti-trend - Lack of accountability
Most surveyed project managers are still struggling with losing accountability. This is due to a variety of causes that lead to insufficiencies and problems in carrying out projects.
Curious to see more of the findings? Download the full report for more results and insights - Project management radar 2021.
Source: Teamhood