ProctorFree and Markanyx™ Announce Partnership
Press Release
•
Feb 21, 2023
Custom LMS development and proctoring experts partner to provide best-in-class proctored exam experience in Moodle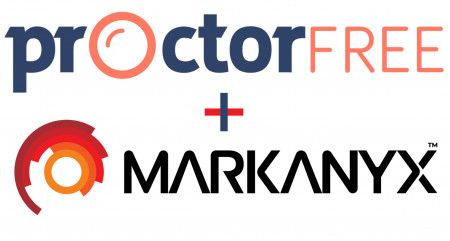 DAVIDSON, N.C., February 21, 2023 (Newswire.com) - ProctorFree, a global provider of exam proctoring software, and Markanyx™, a custom learning management system (LMS) developer specializing in working with the Moodle LMS, have announced a partnership to provide a seamless proctoring integration into instances of the Moodle LMS, especially in cases where LMS development or support is required by a client using Markanyx's ™ services.
This partnership will ensure that businesses, schools, and organizations using the Moodle LMS and also requiring on-demand proctoring and invigilation will have the ability to leverage ProctorFree's technology and services, and also receive tailored Moodle solutions provided by Markanyx™.
"We consistently speak with organizations and businesses that are evaluating Moodle as an LMS or currently using Moodle that have questions or need support beyond just what ProctorFree provides. Having the ability to refer or introduce the team of experts at Markanyx™ allows us to better serve those clients or future clients, which is ultimately what we're trying to do — solve problems and help organizations deliver proctored exams at scale when using the Moodle learning management system. We're looking forward to a productive 2023 together and beyond," said Mike Murphy, CEO of ProctorFree.
"We help our clients and future clients start from scratch or enhance their existing setup when it comes to LMS development, support, and maintenance. One of the trends we have noticed is an increasing demand for proctoring and invigilation technology to be added as a critical component to support and measure a candidate's knowledge, particularly in the client's LMS in a way that is seamless for the learning administrators and candidates. We have been impressed by what ProctorFree offers by way of a smooth integration with the Moodle LMS and the high-quality 24/7 support and responsiveness they provide. We look forward to offering ProctorFree to any interested parties that would like to explore, including on-demand proctoring as part of their LMS and course offerings," said Kais Abid, CEO of Markanyx™.
About ProctorFree
Based in Davidson, North Carolina, ProctorFree delivers on-demand, easy-to-use, and cost-effective online proctoring solutions, including fully automated proctoring, human-assisted proctoring, secure browser-based testing, and exam delivery services. Learn more at proctorfree.com.
About Markanyx™
Based in Edmonton, Alberta, Markanyx™ is a company that provides solutions for online training, education, and certification. This can range from web design, LMS development, hosting, custom integration of third-party applications, artistic design, and more. Learn more at markanyx.ca.
Media Contacts:
Suzanne Flynn Speece // info@proctorfree.com // 855-759-6569
Rachel Forbes // rachel@markanyx.ca // 587 609 5422
Source: ProctorFree