PRO Max Grow, COO, Welcomed to NCIA Board
National Cannabis Industry Association Appoints Cannabis Veteran, Christie Lunsford, to Board of Directors, 2017-2019
Press Release
-
updated: Jul 24, 2017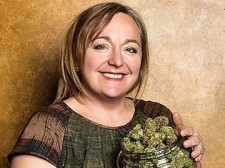 Tappan, New York, July 24, 2017 (Newswire.com) -  – National Cannabis Industry Association has announced the addition of Pro MAX Grow Chief Operating Officer, Christie Lunsford to its board, effective July 14, 2017.           
"We are thrilled for Christie to join the board of NCIA," said Pro MAX Grow CEO Jeff Gasman. "Christie has demonstrated her long-term commitment to NCIA over the last six years and her continued strong leadership is deeply needed.  Pro MAX Grow is proud to support NCIA as the marijuana industry matures."
 "I believe the cannabis movement is a catalyst for greater social change. In no other industry is the intersection between social justice, agriculture, science, technology, sustainability and politics more impactful. Cannabis cultivators, product manufactures and dispensaries are all unfairly taxed – almost to the breaking point. NCIA is leading the charge to create pro-business policies in Washington D.C. and I am pleased to take part in creating strategies to insure the success of the cannabis industry and further legitimize cannabis as a plant medicine that serves both medical patients and adult use consumers." Stated Christie Lunsford ​
Christie has a vast amount of experience in every facet of the industry from indoor cultivation, extraction, product formulation and manufacturing, dispensing and application writing. As an industry expert, Christie advises clients throughout the U.S. on sustainable cultivation practices and mentors new cannabusinesses through her consulting company, Endocannabinoidology. Christie is a founding member of National Cannabis Industry Association.
About National Cannabis Industry Association, (NCIA)
NCIA is the only national trade association advancing the interests of the legitimate and responsible cannabis industry. Our industry supports tens of thousands of jobs, tens of millions in tax revenue, and billions in the economic activity in the United States. NCIA is leading the unified and coordinated campaign to ensure this emerging sector is treated fairly under federal lax.
Representing more than 1,200 member-businesses nationwide, National Cannabis Industry Association (NCIA) is the largest cannabis trade association in the U.S. and the only one representing cannabis-related businesses at the national level. NCIA promotes the growth of a responsible and legitimate cannabis industry and works toward a favorable social, economic, and legal environment for that industry in the United States. For more information, please visit: http://thecannabisindustry.org/.
About Pro MAX Grow
With 30 years in the lighting industry the owners of Pro MAX Grow LED Horticulture Lighting understand the value of efficiency, power, color and durability. The Pro MAX Grow line of LED grow lights were designed by cultivators and electrical engineers based on the principles developed by NASA to grow plants in space. Our cannabis grow LED lights utilize proprietary technology to produce a full spectrum white light for superior yields at half the cost of using old HPS lights.
Media Contact:  Troy Bohlke-10 Day Media , 480-584-2909
For more information about Pro MAX Grow, please visit www.promaxgrow.com.
Source: Pro MAX Grow
---
Categories: Business News, Corporate Officers, Emerging Businesses, Conventions, Trade Shows, Meetings and Events
Tags: Board Member, Breakthroughs in Cannabis Industry, Cannabis Industry, Medical Marijuana, National Cannabis Industry Association, Pro MAX Grow, Southwest Cannabis Conference and Expo, Updates on MMJ Industry
---