PrivateAuto Streamlines Peer-to-Peer Car Sales With New 'DealNow' Feature
Press Release
•
Aug 8, 2023
DealNow is Ideal for When You Have a Buyer or Seller Already Lined Up and Want a Secure, Fast, and Convenient Way to Close the Deal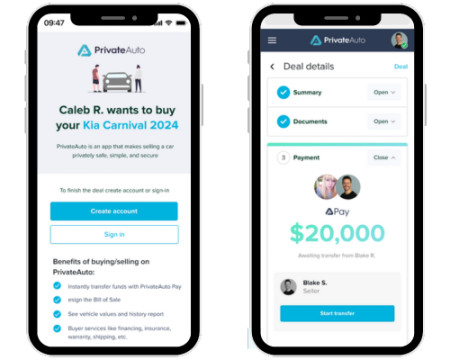 ALPINE, Utah, August 8, 2023 (Newswire.com) - PrivateAuto, the transactional marketplace for private-party auto sales, announced today the launch of its new DealNow feature for fast-track vehicle transactions.
DealNow allows buyers and sellers who have found each other through other means to utilize PrivateAuto's suite of transactional tools to securely and seamlessly complete the sale.
Sellers can bypass the listing process and invite a buyer to "DealNow" on PrivateAuto to take advantage of the platform's robust transactional capabilities. Similarly, a buyer can invite a seller to DealNow.
DealNow is ideal for buyers and sellers who meet on other platforms such as Craigslist or Facebook Marketplace, which lack transactional infrastructure and safeguards.
"With DealNow, we're giving buyers and sellers the best of both worlds: the ability to connect on their own terms combined with our robust transactional infrastructure to get the deal done," said PrivateAuto CEO Brad Parker. "If you've already found your next car or found a buyer for your current vehicle, you can skip the marketplace and go straight to our seamless checkout flow. DealNow takes out the friction associated with private-party sales so car buyers and sellers can get the deal done safely and conveniently."
DealNow equips users with PrivateAuto's full suite of tools to facilitate and safeguard transactions, including integrated financing, scheduling, inspections, escrow-like safeguards, insurance, instant digital payments (with no transaction fees), electronic bill-of-sale signing, and vehicle-transport coordination.
Buyers and sellers initiate the DealNow process by inviting the other party, then proceed through PrivateAuto's fast-track workflow to schedule the test drive, electronically sign the bill of sale, and transfer funds. For the latter, PrivateAuto Pay's $1 million instant transfer capability works 24/7/365 and is fee-free.
"For too long, peer-to-peer vehicle sales have been an inefficient hassle," added Parker. "With DealNow, we've created the first truly streamlined end-to-end solution tailored specifically for direct buyer-seller connections. It removes the risks and headaches traditionally associated with private-party sales. We're excited to be pioneering fast, secure and seamless transactions."
The DealNow feature is available starting today for PrivateAuto users across the United States. For more information, visit https://privateauto.com/dealnow.
About PrivateAuto
PrivateAuto is the first transactional marketplace that simplifies and secures the private-vehicle sale process. Founded in 2020, the company provides a self-service platform that enables a safe, simple, and speedy experience for vehicle buyers and sellers. With identity verification, e-signing the bill of sale, and instant transfer of funds, PrivateAuto sets the standard for peer-to-peer car sales. For more information, visit privateauto.com or follow @privateauto on Instagram, YouTube or LinkedIn.
Source: PrivateAuto
Tags