PrintNow Integrates With AccuZIP, Providing Integrated List Purchase, EDDM® and Complete Direct Mail Capabilities From Within the PrintNow Web‐to‐Print Storefront Software
Press Release
•
updated: Feb 20, 2018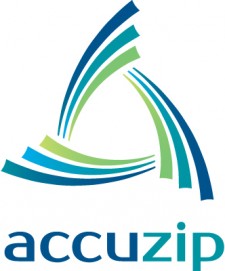 ATASCADERO, Calif., February 20, 2018 (Newswire.com) - ​AccuZIP, Inc. today announced the integration of AccuZIP's List Purchase and Direct Mail software solution into PrintNow's web‐to‐print Storefront software. PrintNow serves the graphic arts and printing industry providing highly customized web‐to‐print Storefront software that allows customers to embrace the expanding world of internet-based print sales. The seamless integration with AccuZIP's direct mail technologies expands the platform's functionality allowing these same customers to add end‐to‐end list purchase, data quality and direct mail processing to their campaigns.
The AccuZIP Direct Mail integration provides the ability to automate address verification processes such as CASS™ Certification and NCOALink® (National Change of Address) Move Update service, comprehensive duplicate detection and PAVE™ Gold Certified postal presorting to achieve the maximum postal discounts. The integration includes Business, Consumer, New Mover, New Homeowner and New Business mailing list purchase options as well as EDDM® (Every Door Direct Mail) mailing list creation through a user‐friendly graphical interface.
Through our partnership with AccuZIP we are able to offer customers a turn-key print & mail solution in the cloud. Seamless integration with AccuZIP's direct mail technologies expands our web-to-print platform's functionality and solves the growing demand to add mailing automation to e-commerce Print Stores. Our initial customers were very pleased with the combined solution and the added ability for their customers to process print & mail orders efficiently and automatically.

Todd Gordner, President-CEO, PrintNow Technologies, Inc.
EDDM mailing address lists enable mailers to saturate their target audiences by zip code, mail route or area at a great postage rate. PrintNow's Storefront provides an easy‐to‐use process and interactive graphical interface to take advantage of this powerful tool.
AccuZIP's back‐end automated mail list processing and postage calculations combined with the integrated mailing list purchase feature makes it easy for PrintNow customers to offer complete data quality and direct mail services regardless of their expertise with mailing. The integration provides a complete end‐to‐end web‐ to‐print mailing solution that is automated and 100% USPS® CASS certified to PrintNow users.
This integration initiative was driven by mutual PrintNow and AccuZIP customers further solidifying the demand for a synergistic solution provided by these two industry leaders. PrintNow has been focusing on providing both B2B and B2C capabilities in one system for over 15 years to printing companies of all sizes. AccuZIP, a leader in the mailing industry and data quality space since 1992, is celebrating its 26th business anniversary this year. "The integration with PrintNow is a natural synergy and extension of our commitment to offering customers seamless and automated solutions supporting the print and direct mail industry backed by world‐class support, " says Kristen McKiernan, AccuZIP President.
"AccuZIP is honored to have our technology integrated with PrintNow's solutions," says Kristen McKiernan, AccuZIP President. "AccuZIP strives to provide technology that removes barriers to entry into mailing services. Providing these integrated solutions help end‐users grow their print and direct mail business, streamline workflows and increase their bottom‐line."
Customers interested in learning more are invited to contact AccuZIP Sales at 1‐800‐233‐0555 or email sales@accuzip.com or contact PrintNow Sales at 1‐413‐930‐4040 or email sales@printnow.com
About AccuZIP, Inc.
AccuZIP, Inc., a national software company, provides feature-rich solutions to manage Contact Data Quality, Address Hygiene, USPS Postal Presorting and Compliance and Mail Tracking and Reporting.
AccuZIP's solutions are designed to be utilized across many industry verticals to streamline, standardize and simplify processes associated with data entry, data management, and multichannel communications. AccuZIP's products and services make it easier for businesses to get their message out to the right people at the right location when they need to most. Now into its third decade of doing business and celebrating its 26th year anniversary, the company has built an outstanding reputation for value, service, and innovation. For more information, visit www.accuzip.com.
About PrintNow Technologies, Inc.
PrintNow Technolgies, Inc., a software company based in Massachusetts, provides an enterprise web-to-print platform that solves simple and complex challenges in the print industry, from attracting more buyers and converting sales online to automated print software workflow systems that will drive down costs and help grow your business. Since 2003, PrintNow has made it easier for customers to launch profitable Print Store websites, serve both B2C and B2B target markets with the industries most flexible online Print Editor and get work done faster with simple Print MIS tools. For more information, visit www.printnow.com
Source: AccuZIP, Inc.
Related Media