AccuZIP Integrates With EnFo Technologies to Revolutionize the Workflow Process for the Print and Mail Industry
Press Release
•
updated: Feb 13, 2020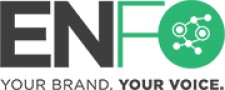 LEAGUE CITY, Texas, February 13, 2020 (Newswire.com) - ​AccuZIP has aligned with Fort Worth-based developer EnFo Technologies to bring the EnFo platform to market. Combining AccuZIP's powerful List Purchase and Direct Mail software solution with the Robust (Adobe InDesign® based) Editor in the EnFo platform is a game-changer for large print and mail shops. Akin to the changes that came from the Direct to Plate technology that came to market in the 90s, the EnFo Platform will change how customers interact with manufacturers and, by doing so, cut out days of the normal production workflow.
The EnFo Platform is designed so manufacturers can store all of a customer's commonly used art templates and log in (only seeing their own art files) and create a new campaign with the full functionality of InDesign® but in the simplified setting of template-based creative. The designer creates the new file in CMYK and gives the client back a post-rip file for their approval. The next step processes the file through the comprehensive AccuZIP DQ (Data Quality) services which include the options to upload an existing list, create a new Demographic list, or even map out an EDDM® campaign. The associated JSON file contains all of the Mail Shop's previously stored information (MID, CRID, and entry preference) so that the file is sorted the moment a customer completes their order. Once in the cart, a customer can check out with Credit Card, E-Check or even a PO number.
The Admin panel developed by EnFo Technologies has everything needed to move a job into production at the CSR's fingertips. An approved post rip art file is attached, along with the AccuZIP pre-sorted list ready for merge and print. By starting the customer contact at order completion, wasted days and steps of the previously 'normal' workflow are cut out, eliminating the need for emails back and forth with proofs, edits, lists preference, 3602s, Invoices for postage, Invoices for print and, finally, approval to proceed.
Along with all of a customer's art files, the EnFo platform contains hundreds of built-in templates ready for customers to use at no cost. Inside of the public gallery folder in the Editor tool are over 700 stock images that are also free to use.
The licensing for the EnFo platform is based on regions and cities. The release of the technology on the market is being controlled so that regional partners have a truly unique advantage going to market for new and current customers. Visit EnFoTechnologies.com to find out if your region has an available license.
About EnFo Technologies:
A software company with a manufacturing background, EnFo developed software that will change the normal workflow for printers, mailers and customers ordering. What used to take five days in production now takes five minutes.
About AccuZIP, Inc.
AccuZIP, Inc., a national software company, provides feature-rich solutions to manage Contact Data Quality, Address Hygiene, USPS Postal Presorting and Compliance and Mail Tracking and Reporting. AccuZIP's solutions are designed to be utilized across many industry verticals to streamline, standardize and simplify processes associated with data entry, data management and multi-channel communications. AccuZIP's products and services make it easier for businesses to get their message out to the right people at the right location when they need to most. In business for over 28 years, the company has built an outstanding reputation for value, service and innovation. Visit www.accuzip.com for more information.
Source: AccuZIP, Inc.
Additional Links