Printing Our Food in a Pandemic?
Chocolate and Sweets Lead the Market
Press Release
-
updated: Jul 2, 2020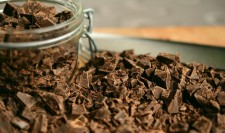 WELLESLEY, Mass., July 2, 2020 (Newswire.com) - The global market for 3D food printing was valued at $423 million in 2019 and is projected to reach a market value of $1 billion by 2025, growing at a CAGR of 16.1% during the forecast period (2020-2025), 3D Food Printing.
3D printing of food is in ways still primitive (it is still out of reach to print cooked or baked foods, for example—we still need the oven…for now). However, in these dire times, industries including supermarkets, large scale housing such as assisted living and the military are looking to simplify and improve safety in food supply chains. The potential is there, proven out in the projected growth rates.
In a time of pandemic, it is ironic that the class of printable food leading the way is the confection segment, and specifically chocolate, as its physical properties lend itself almost perfectly to most of the established methods of 3D printing. Hopefully, we will feed the world with printed bread in the near future—for now we start with chocolate kisses.
Some of What's Already Happening:
Barilla sponsored a contest to create a 3D printed pasta. Barilla, the leading Italian pasta manufacturer teamed up with TNO, a Dutch scientific research firm to develop a 3D printer capable of printing a variety of differently shaped pasta, enabling customers to 3D print their own CAD files with different pasta designs quickly and easily.
 
PepsiCo uses 3D food printing to create plastic prototypes of different shaped and colored potato chips. Hershey scientists use 3D printing for uniquely designed candy.
 
Oreo has uses 3D printers to create cookies with customized creme patterns and flavors. The brand unveiled a 3D social cookie experience at SXSW, demonstrating that the phenomenon can absolutely draw a crowd.
 
CSM Bakery Solutions and 3D Systems Corp. are working together on the development, sale and distribution of 3D printers, products and materials for the food industry. Customized chocolate and cakes are the largest segments of the printed food market and are expected to see the most significant growth.​
 
AlgaVia, a company from San Francisco, California has utilized microalgae to develop a protein powder with desired attributes: non-allergenic, gluten-free and a high source of dietary fiber.
Read the full report here: https://corporate.bccresearch.com/market-research/food-and-beverage/3d-food-printing-market-report.html
About BCC Research
BCC Research publishes market research reports that provide organizations with intelligence to drive smart business decisions. By partnering with industry experts worldwide, BCC Research provides unbiased measurements and assessments of global markets covering current and emerging industrial and technology sectors. For more information about BCC Research, visit bccresearch.com.
Source: BCC Research
Share:
---
Categories: Food and Beverage Manufacturing
Tags: 3D printed food, 3d printing, AI, food supply chain, sustainable food
---