Priceless Cache of Over 70,000 Lorenzo Ghiglieri Drawings Coming to Market in 2018 by Mark Russo, CEO of Treasure Investments
Press Release
•
updated: Jan 3, 2018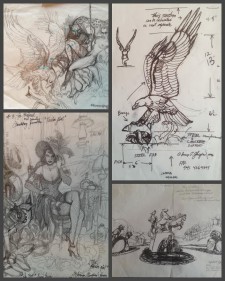 BATTLE GROUND, Wash., January 3, 2018 (Newswire.com) - In a sprawling 80-acre estate in Aurora, Oregon – residence of world-famous artist Lorenzo Ghiglieri – lays a priceless cache of original one-of-a-kind illustrations, renderings and drawings numbering well over 70,000 images. This massive archive of artwork dates back to the mid-1940s.
Lorenzo, at the age of just 17, won a prestigious Los Angeles Art Directors Club award, providing a scholarship to the Los Angeles Trade Tech Junior College. With the training he received there, he solidified his move into the visual arts. The Korean War and naval service interrupted his art education, but after serving less than a year on a destroyer, he was fortunate to be assigned to the Headquarters of the Commander-in-Chief of the Atlantic Fleet, in Norfolk, Virginia. As a staff illustrator and naval painter, he and his skills were put to full use. During this tour came a commission for a dynamic marine painting of the cruiser U.S.S. Baltimore, which was officially presented by the United States to Great Britain on the occasion of the coronation of Queen Elizabeth II. The Baltimore was America's honor ship during the ceremonies in London. Ghiglieri was just 22 at the time he completed this important commission. After his honorable discharge, Lorenzo joined the staff of Stephen Biondi Studios, where he soon was working on their national accounts including Richfield, Hughes Aircraft, Revell and Coca-Cola. As his career progressed, he worked in Chicago and New York as a successful illustrator and painter and moved to the Pacific Northwest in 1956.
It may be hard for some to believe that he has created this large a body of work, but it exists.

Mark Russo, CEO, Treasure Investments Corp
Building his career, Lorenzo continued painting and began receiving numerous commissions for his original oil paintings, including North American wildlife, African wildlife, western, biblical, historical and cultural subject matters. Having painted thousands of paintings, Lorenzo began his sculpting career in the mid-1970s, which is when he received a worldwide audience. Lorenzo has presented his work to his holiness Pope John Paul II, President Ronald Reagan, Mikael Gorbachev, the King of Spain, Queen of England, King of Norway, celebrities, astronauts and thousands of successful entrepreneurs.
"Lorenzo creates more art than can be imagined. While visiting his incredible home, and over a three-hour dinner, I watched him draw over 100 illustrations of a jewelry line he was designing. I went out the next day and discovered that he continued to draw through the night and created another 100-plus images of designs he has for wildlife coffee cups. It's unreal how much work he creates. It's non-stop and never-ending," says Mark Russo, CEO of Treasure Investments.
When Lorenzo receives a commission for either a new painting or sculpture, he always designs the concept and renders numerous drawings as studies for client approval, engineering, feel, color composition and other important factors that make his works so stunning.
Any one commission will result in dozens of drawings and illustrative renders. Lorenzo has sculpted several thousand pieces and several hundred heroic monuments the world over. "What is so incredible is that he never stops producing. Every single day, Lorenzo uses up drawing tablets and sketch pads. Walking through Lorenzo's home are rooms full of drawings stacked to the ceilings. I have witnessed his amazing ability to create these images, and it never stops. It may be hard for some to believe that he has created this large a body of work, but it exists," says Russo.
"Art is the greatest form of communication; I speak through my drawings," says Lorenzo.
Treasure Investments will begin the monumental task of cataloging, photographing, numbering and preparing the collection for the world art markets in 2018. "We are excited to make this spectacular collection available for the first time ever. We will be choosing a few select galleries and several auction houses to slowly begin releasing a few of the collections sometime in 2018," says Russo.
The value of the art is staggering. The smaller, simpler original drawings will be priced from $1,500-$5,000 each, with the larger, more detailed pieces selling for $5,000-$12,000 each. In all, Treasure Investments will be sitting on about $500 million in sellable product. Treasure Investments has tens of thousands of clients in their database, all of whom have purchased a Ghiglieri sculpture, and up until now, have never had a chance to purchase an original drawing. "We have never been so excited about sharing this with the world and our growing customer base. We have a ready-made market and buyers standing in line to begin collecting these one-of-a-kind masterpieces," says Russo.
To learn more about Treasure Investments Corporation and its work with nonprofits, visit Fineart1.com.
Media Contact:
Mark Russo
Phone: 360.954.5453
Email: mark@fineart1.com
Source: Treasure Investments Corporation
Related Media