Premier Traveler Worldwide's Annual Awards Honors the oneworld Alliance Program and Several oneworld Member Airlines
Press Release
•
updated: Jun 22, 2016
The Magazine Celebrates the Winning Airlines in its Current Issue, While Keeping an Eye on New Developments in Advance of the 2016 Voting Period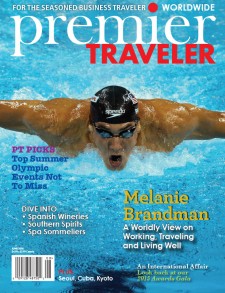 New York, NY, June 22, 2016 (Newswire.com) - Released this week, the June-July 2016 issue of Premier Traveler Worldwide Magazine (www.ptwwonline.com) includes a multi-page re-cap of the magazine's Best of 2015 Awards, which were voted on by over 30,000 of the magazine's readers via a detailed write-in questionnaire. Among the honorees were the oneworld frequent flier program and several oneworld member airlines, which picked-up such awards as Best Transcontinental Service, Best North American First Class Service, and Airline of the Year—many for the third or fourth year in a row. The oneworld program itself was awarded Best Airline Alliance for the third consecutive year.
Winners were announced in a gala ceremony in Los Angeles by actress Cloie Wyatt Taylor ("Grey's Anatomy," "Brothers and Sisters") and Features Editor, Janet Forman. The main portion of the lively event kicked off with the presentation of Best International Frequent Flier Program to airberlin. A oneworld member since 2013, Germany's second largest airline currently serves 135 destinations worldwide, operating from hubs in Berlin, Dusseldorf, Vienna, and Palma de Mallorca. Citing increased interest in travel to Cuba, in May 2016, the airline announced new twice-weekly service from Dusseldorf to Havana, along with expanded summer service to the resort area of Varadero.
Best Transatlantic Business Class Service went to British Airways, whose LAX Airport Manager was on hand to accept the honors. One of the founding members of oneworld, BA serves close to 200 destinations in nearly 90 countries worldwide from its primary hub at London Heathrow. May 2016 was a big month for the airline, with the sold-out launch of its first-ever flights from London Stanstead, marking the addition of a fourth airport to its London network. BA also recently revealed what will be its longest direct long-haul flight: the 14-hour, 40-minute service from London to Santiago, Chile will commence in January 2017, operating four times a week on a Boeing 787-9 Dreamliner with four classes of service (including a new First cabin.)
Japan Airlines (JAL) was named Best Airline to Asia and with the Best Premium Economy Worldwide, VP Passenger Marketing Hideki Tarkarada accepted the award peaking on behalf of all of JAL. Announcing days ago, business class will offer fully flat seats called JAL Sky Suite III and premium economy class have JAL Sky Premium seats. that its newly-revamped Boeing 777-200ERs (772s) "JAL SKY SUITE 777" or "SS2" will debut on June 18 from Tokyo Haneda (HND) to Bangkok (BKK). Designated for regional flying, the SS2 will feature lie-flat seating in business class, a roomy premium economy section, and best-in-class nine-abreast seating in economy, going against the grain during a time when virtually every new refurbishment of 777s calls for ten-abreast seating.
An alliance member since 2013, Qatar Airways was next called to the stage to accept awards for Best Airline to the Middle East and Best Business Class Service in the World. (Its hub, Hamad International Airport, was also named Airport of the Year.) Cited as one of the world's fastest-growing carriers, with a modern fleet of over 160 aircrafts, Qatar Airways links over 150 business and leisure destinations around the globe, and recently announced increased codeshare partnerships with fellow oneworld members Royal Jordanian and SriLankan Airlines to further expand its reach.
American Airlines, also a oneworld founding member, was honored by PT readers with three titles: Best North American Airline for First Class Service, Best Transcontinental Service, and Best Airline to South America. With hubs across the U.S., including DFW and MIA, American connects travelers to more than 330 destinations in 50 countries. In May 2016, the carrier announced major changes to its AAdvantage Frequent Flyer Program, which was the first airline loyalty program in the world when it launched in 1981; changes will take effect for the 2017 qualifying year. Also big news is the Department of Transportation's approval of American Airlines service from Miami to five cities in Cuba; flights to Camaguey, Cienfuegos, Holguin, Santa Clara and Varadero are expected to commence this September.
Fellow founding member Qantas—the only Australian airline in any global alliance program—was next up to take home the honors for Best Airline to Australia/New Zealand/South Pacific and Best A380 Layout. In addition to connecting almost 80 destinations in 20 countries to the land Down Under, Qantas also offers extensive domestic service. Beginning in late-2016, the airline will outfit its domestic fleet of A330s and B737s with a new broadband network that will provide on-board WiFi at speeds up to 10 times faster than current industry standards. Other domestic perks include a new multimillion-dollar Premium Lounge at Brisbane International, set to be unveiled in stages beginning in early-2017.
Culminating the individual airline awards, oneworld founding member Cathay Pacific Airways was then named by Premier Traveler readers as Best Airline to China, Best International Airport Lounges, and the coveted Airline of the Year. Launched in 1946 and serving more than 90 destinations in 35 countries, the venerable airline is not one to rest on its laurels, instead rolling out state-of-the-art lounges around the globe, and launching partnerships with luxury hotel brands like The Langham and Hyatt for elevated on-board dining experiences.
As a testament to all its stellar members, oneworld was named Best Airline Alliance for the third year running. Launched in 1999, the frequent flier program now boasts 15 member airlines, which together help connect travelers to the best the globe has to offer. Following its honor from Premier Traveler readers, the alliance continues to garner distinctions this year, including a nod for Best Alliance for On-Time Flights from FlightStats, Inc., and Best Airline Alliance for In-Flight Wine from an international panel of judges.
About Premier Traveler Worldwide (PT): Premier Traveler was created as an outlet for its readers' voices to be heard. Perpetually on-the-go (both domestically and abroad), with high expectations and a taste for luxury, PT readers always have something to share—a personal experience, an opinion, a suggestion, a question—and the magazine was designed to listen to them, and seek the answers they need. The open dialogue doesn't stop with letters and emails from readers: the magazine goes one step engaging readers via questionnaires on a variety of topics, allowing the editorial team to inject the magazine's content with valuable and relevant insights. This is one example of what elevates Premier Traveler beyond just another magazine to one that shares a personal connection with its readers. www.ptwwonline.com.
Source: Premier Traveler Worldwide
Related Media