Pratik Gauri, President of 5th Element India, Recognized on GreenBiz Global '30 Under 30' List
Press Release
•
updated: Jun 4, 2019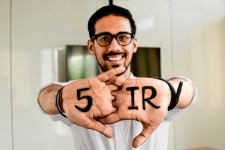 DELHI, India, June 4, 2019 (Newswire.com) - ​GreenBiz Group today named Pratik Gauri, President and Co-founder of 5th Element Group India, as one of the 2019 "30 Under 30" based on a global search for emerging leaders across sectors who are shaping the next generation of sustainable business.
The honorees were nominated by GreenBiz readers around the world and selected by the GreenBiz editorial team from among hundreds of submissions.
"The 2019 class of 30 Under 30 represents a rich diversity of genders, ethnic backgrounds, industries, and professional roles across the private and public sector. Their perspectives are creative and their approaches offer lessons for sustainability professionals at any stage of their career," said GreenBiz Group editorial director Heather Clancy. "It's inspiring to consider what they have already achieved during the first decade of their careers, and we're eager to see what they accomplish next."
Seven members of this year's cohort work within some of the world's largest companies, including Ernst & Young, Goodyear, Microsoft, Rabobank, Sainsbury's, TPG Capital and Unilever. Others are making waves in the business world from other perches, including government, startups and advocacy groups.
This year's roster ranges from managers and directors to founders and CEOs — and despite the differences in their industries and sectors, these young leaders are driving the change our world needs.
The World Business Council for Sustainable Development and BSR both helped cast a global net for this year's candidates. The 30 individuals being honored come from 10 countries — from Oakland, California to Taguig, Philippines, and Nashik, India. They work for multinational corporations, innovative startups, social enterprises, nonprofit organizations, government agencies and academia.
"These young men and women are helping to redefine sustainability, befitting a generation which is demanding that the companies they work for have a larger purpose, and the products they buy be more sustainable," said Aron Cramer, CEO of BSR. "We can feel confident that, as they ascend into positions of increasing influence, the future of sustainable business is bright."
"We need their courage and leadership to look at sustainability and its challenges in a different way," said Peter Bakker, President and CEO of the World Business Council for Sustainable Development. "Business as usual is no longer an option, and to achieve our vision of a world where more than 9 billion people are all living well and within the boundaries of our planet, we need to transform our current economic systems so that more sustainable businesses are the most successful. And the next-gen leadership will add impetus and play a critical role in ensuring this transition happens."
Pratik Gauri leads the India operations for 5th Element Group, a global impact accelerator creating traffic on the bridge between Key Performance Indicator (KPI)-driven performance and Sustainable Development Goal (SDG)-aligned impact. The result creates what Gauri calls "brand warmth."
"Until now, if companies wanted to give their shareholders a large financial return, it too often came at the detriment of society and our environment,"​ Gauri says. "We are a flagship brand that is showing brands, donors and investors how they can do better by doing good."
Gauri has a background in marketing, business, social causes and leadership. At age 18 he co-founded India Needs You, an organization providing youth education. He has also been a World Economic Forum Global Shaper, a Climate Reality Leader by US Vice President Al Gore, a Startup Leadership Program fellow and an Asian Youth Inspiration awardee. He also ran a business unit for Tata Sky.
"I'm so honored to be in this prestigious list alongside other incredible people changing the world. These people inspire me to continue work on 'omniwin' or 'shared-win' collaborations, using the UN's Sustainable Development Goals as a shared language for critical social impact targets. I want to mobilize millions of marketing dollars for social causes to make India and the world a better place," Gauri said.
"Pratik is an inspiration to everyone who works with him," said Jim Van Eerden, Co-founder and President of 5th Element Group PBC. "His energy, vision and commitment to help make a better world is truly epic."
View the full "GreenBiz 30 under 30" list here: https://www.greenbiz.com/article/2019-greenbiz-30-under-30
About GreenBiz Group
GreenBiz Group is the leading media and events company at the intersection of business, sustainability and innovation. We view climate change and other global environmental challenges as existential threats to business and society, as well as significant opportunities. We help our audiences — large and small companies, utilities, government agencies and others — navigate the emerging technologies, business practices, policies and societal expectations they need to know to succeed. We achieve this through media, events, research and a membership network of corporate sustainability professionals. www.greenbiz.com
About World Business Council for Sustainable Development
WBCSD is a global, CEO-led organization of over 200 leading businesses working together to accelerate the transition to a sustainable world. We help make our member companies more successful and sustainable by focusing on the maximum positive impact for shareholders, the environment and societies. Our member companies come from all business sectors and all major economies, representing a combined revenue of more than US$8.5 trillion and with 19 million employees. Our Global Network of almost 70 national business councils gives our members unparalleled reach across the globe. WBCSD is uniquely positioned to work with member companies along and across value chains to deliver high-impact business solutions to the most challenging sustainability issues. www.wbcsd.org
About BSR
BSR is a global nonprofit organization that works with its network of more than 250 member companies and other partners to build a just and sustainable world. From its offices in Asia, Europe, and North America, BSR develops sustainable business strategies and solutions through consulting, research, and cross-sector collaboration. www.bsr.org
About 5th Element Group PBC
5th Element Group PBC is a global impact accelerator that drives performance using frontier tech and innovation best practices to advance the common good. Our mission is to serve impact donors, investors and brands through six practice areas, which integrate traditional and innovative impact strategies to facilitate "omniwin" value exchanges. www.5thelement.group
Source: 5th Element Group
Tags
Additional Links