Power Your Fun Donates Talking Robots to Toys for Tots
Press Release
•
updated: Dec 19, 2019
Talking Robot Purchases are Matched with a Donation to Kids in Need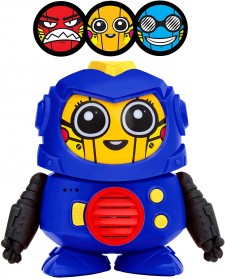 SHERIDAN, Wyo., December 19, 2019 (Newswire.com) - Power Your Fun has announced plans today to partner with Toys for Tots, a 501(c)(3) not-for-profit public charity dedicated to bringing joy and sending a message of hope to children in need for the Christmas season.
Power Your Fun (PYF) is on a mission to power more fun for more kids with a BOGO deal that amplifies customer purchases into gifts for children. PYF, an online toy company based in Sheridan, Wyoming, is matching every purchase of their best-selling Tok Tok Talking Robot with a donation of the same robot to Toys for Tots this holiday season.
As a provider of power-packed toys to kids of all ages, PYF is excited to join Toys For Tots' efforts to:
"play an active role in the development of one of our nation's most valuable resources – our children; to unite all members of local communities in a common cause for three months each year during the annual toy collection and distribution campaign."
This BOGO event gives holiday shoppers an opportunity to double their gift-giving power with an instant donation to less fortunate children through Marine Toys for Tots, commonly known as Toys for Tots, a charity that has been igniting joyful smiles for little ones since 1947.
As for the toy that will be gifted to children, the Tok Tok Talking Robot was released just a few months ago at a retail price of $14.99 and has already delighted kids of all ages. It's easy to see how this small robot has been a best-seller this season; the interactive toy records a user's voice and repeats back what you say in three funny voice disguiser modes. According to PYF, "A smile can be a powerful thing. It was a no-brainer to partner with Toys for Tots this season to spread the joy of this giggly little robot to kids across America."
Power Your Fun is an online toy seller based in Sheridan, WY. They are a family-owned company on a mission to provide toys uniquely designed to get kids moving, socializing, and learning while sparking fun! Every toy meets the highest safety standards and is tested in their U.S. headquarters to provide the best playing experiences imaginable.
Contact:
Marketing Manager at Power Your Fun
Source: Power Your Fun