Power Your Fun Announces STEM Toys That Challenge Creativity and Agility
Press Release
•
updated: Nov 12, 2019
Build, dance, spin - three active toys to keep kids moving this holiday season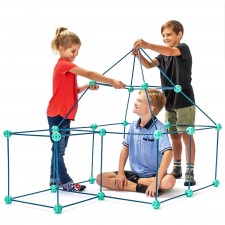 SHERIDAN, Wyo., November 12, 2019 (Newswire.com) - ​​​​Power Your Fun, a new online toy store, launched three new products specifically targeting science, engineering, math and technology – with a fun twist. These are not your typical science experiments or building projects. These new toys combine gross motor skills with problem-solving for an experience that's as much about process as it is entertainment for kids.
FunForts' build-a-fort kit empowers kids ages 4 and up to create their own full-sized play tent structures. The set includes 52 connecting rods (15.7-inches in length), 29 multilink spheres and a guide book. The multilink spheres feature rod-insertion holes all around them so kids can try out different connection angles to customize roof pitch, arches, tunnels and even games. Build giant igloos, rockets, castles and unique forts indoors and outdoors by inserting and twisting the rods into the 2-inch spheres. Once constructed, kids can add a light sheet over it to enclose.
This exclusive Fort Construction Kit for kids is available on Amazon for $39.99 with free Prime shipping.
Next up is the Jive Dancing RC car, which combines RC cars with choreography. The Jive dancing remote control car is a programmable monster truck that drives and jives with upbeat moves. Press the start button until it honks, then release it; perform a sequence of moves on the remote controller, then push the Start button again and watch it perform the programmed moves. Or simply push the Boogie Mode button to see this dancing car bounce, whirl, and twirl to three dance tracks.
This 4x4 RC crawler drives over dirt, sand or gravel with real suspension springs and multi-roller tires. It'll even drive up on a 6-inch curb. The roller tires allow it to drift, spin, turn tight, whip and pivot in every direction.
The Jive RC Monster Trucks include a 2.4 GHz remote control designed for kids ages 6 and up and are available on Amazon for $49.99 with free Prime shipping.
Turbo Tops, a #1 New Release in Spinning Toys on Amazon, lets you spin, stack and battle. Balance the two-pack of stackable gyro mini spinners on themselves or the included cones and rings, or face-off in a battle against each other. At 1.7-inches in diameter, they're fun stocking stuffers for kids ages 3 and up.
Available in a two-pack of pet designs (cat and dog) and a two-pack of car designs on Amazon for $9.99 with free Prime shipping.
This holiday season, consumers can look forward to open-ended gifts that give children the opportunity to insert their own ingenuity. Power Your Fun is a brand to watch in 2019 and beyond, as they roll out more toys that create captivating user participation.
About Power Your Fun:
Power Your Fun is a locally owned business based in Sheridan, WY, that specializes in Amazon private-label toys.​
Source: Power Your Fun