Power Your Fun Announces New Line of Toys Available on Amazon
Press Release
•
updated: Nov 7, 2019
'Tis the Season for Great Gift Ideas with Ultra-Fast Delivery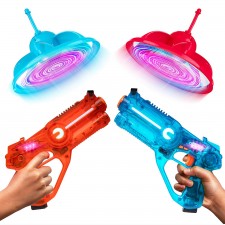 SHERIDAN, Wyo., November 7, 2019 (Newswire.com) - ​​​​​Power Your Fun, a new online toy store, is making it easy for holiday toy shoppers this year. This month, they're releasing four new, action-packed indoor/outdoor toys that range in price from $24.99 to $59.99.
An innovative Laser Launchers laser tag set with drone targets kicks off the new lineup. Unique infrared technology in the laser guns powers the drone's flight. Typically, drones are flown by remote control, but this drone is uniquely powered by the accuracy of shots fired at the drone.
Battle opponents while keeping the LED flying drones afloat. Players place the LED spinners on a flat surface and fire multiple shots until they rise up in the air. Laser Launchers Two-Player Shooting Games come with two laser toy guns and two rechargeable flying targets.
This exclusive Laser Tag Gun Set is available on Amazon for $49.99 with free Prime shipping.
While drones are a top pick for kids, most models aren't suitable for inexperienced pilots, but the new UFO1 is the ultimate beginner drone with obstacle avoidance. Unlike most drones, it can be controlled either by remote control or simply the wave of a hand. Motion sensors on this LED drone assist with flight, along with Altitude Hold for added stability and Headless Mode for orientation.
This indoor drone performs 360° flips and flies at two speeds, so drone pilots can pick up the pace and race. The four-channel transmitter also allows for multiple drones to race at the same time. Plus, two drone batteries are included to double flying time.
This UFO1 mini drone is bound to be a crowd-pleaser and can be purchased on Amazon for $49.99 with free Prime shipping.
Next in line is the double-sided mini Cyclone remote control car, which flips over obstacles and keeps going. This mini stunt car can tackle both on- and off-road terrains while spinning, turning and performing 360° flips. It's rubber shock-compression tires and a high-impact polymer shell provide added durability.
The Cyclone mini toy car with bright LEDs is available on Amazon for $19.99 with free Prime shipping.
Looking for nostalgic toys with no cords or complicated contraptions? This no-fuss, magnetic dartboard game is super kid-friendly, with six non-sharp, magnetic darts (three yellow, three red) and six lightweight velcro dart balls, so younger children can play, too. This reversible dartboard features a traditional bullseye on one side and a uniquely designed alien dartboard on the other.
The compact roll-up design makes it super convenient for storage and travel. Easily hang this versatile indoor/outdoor magnetic dartboard in a bedroom, playroom, classroom, dorm or backyard.
Magnetic Dart Board for Kids measures 17" L x 13.25" W and is available on Amazon for $19.99 with free Prime shipping.
About Power Your Fun:
Power Your Fun is a locally owned business based in Sheridan, WY, that specializes in Amazon private-label toys.
Source: Power Your Fun