Potholes Causing Car Trouble? FEBC Members Can Look Forward to Getting Back on the Road Sooner With Roadside Assistance
Press Release
-
updated: Sep 25, 2018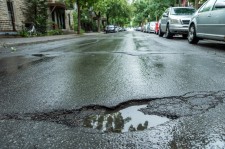 SAN RAMON, Calif., September 25, 2018 (Newswire.com) - The nights are getting longer as fall sets in, which means changing road conditions are up ahead. Practicing safe driving techniques can help mitigate the need for help, but everyone needs some assistance from time to time. Financial Education Benefits Center (FEBC), a membership benefits company, offers a year-round roadside assistance benefit, for when some extra help is needed to get to a destination safely.
"Driving safely is important, especially when road conditions aren't ideal," said Jennifer Martinez, manager at FEBC. When the days start getting shorter, driving home at the end of the workday often means driving directly into the sunlight. It's more than just annoying; it's a potential car accident waiting to happen. Wearing sunglasses and keeping a clean windshield can help mitigate that chance of getting into some sort of accident because no one wants to hit a pothole and ruin a tire because they didn't avoid it because they couldn't see.
Potholes cost on average $3 billion annually in damage repair. Tires wind up taking a beating and suspensions and shocks can reach their limit with frequent beatings from potholes. Unfortunately, potholes aren't always avoidable. FEBC's partnered roadside assistance may help members get to their destination after running into car troubles, either by helping them get back on the road or by giving them a lift somewhere. This benefit is not meant to act as or replace insurance, though. "We at FEBC strive to offer relevant discounts and services to our members' needs and exceed their expectations in our services," said Martinez.
About Financial Education Benefits Center
Financial Education Benefits Center is located in San Ramon, California. The membership company has already helped thousands save money and obtain the necessary education required to live a financially healthy life.
Financial Education Benefits Center has partnered with several name brand third-party companies to expand the financial and educational products and services available to its members and to provide a variety of wellness services as well.
Financial Education Benefits Center Newsroom
Contact
To learn more about Financial Education Benefits Center, please contact:
Financial Education Benefits Center
2010 Crow Canyon Place Ste. 100 San Ramon, CA 94583
1-800-953-1388
info@febcp.com
Source: Financial Education Benefits Center
---
Categories: Active and Healthy Living
Tags: car, health and wellness, membership benefits, pothole, roadside assistance
---