Portable Gazebo - the Smart Choice for Camping
Press Release
•
updated: Feb 6, 2018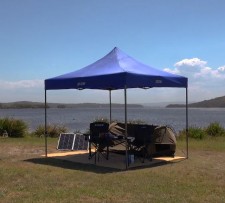 SYDNEY, February 6, 2018 (Newswire.com) - 4WD Supacenter: Shade is one of the most fundamental requirements, and nothing ruins a camping trip or day at the beach like a family of badly sunburnt outdoor enthusiasts.
Trees can provide good shade, but what happens if there are no trees near camp? Or what happens when that shady morning spot is in the direct line of the harsh western sun as it sets? Car or 4×4 awnings are excellent shelters, but not all of us have a vehicle with roof racks. Or maybe we don't have a vehicle tall enough to hang an awning off the side to stand under.
The most multi-purpose shade solution out there is a portable gazebo, like the Kings 3x3m or 6x3m camp gazebos.
Whether a camper, backyard BBQ host, love a day trip to the park or beach or love cheering from the sidelines at weekend sport, a Kings gazebo is the portable shade solution needed. Let's take a look at why they're popping up all over the place with their stunning popularity.
Easy to transport
Packed up in their included travel bag, Kings 3x3m gazebos (the most popular size) are only 1.6m long and 25cm wide and deep. That's more than compact enough to fit on the backseat or in the boot of almost any SUV, hatchback, wagon, sedan, ute or van on the road! It doesn't matter if there isn't a roof rack to hold an awning (but if there is, Kings gazebos travel well on the roof in their transit bags) or a big wagon with heaps of boot space – as long as there's a car, it can carry the portable gazebo and provide shade wherever it goes.
Set up anywhere
With two heavy-duty carry handles on the bag, this gazebo is easy to take out of the car and move around at camp until campers find the perfect spot to set it up. That's where a portable gazebo really comes into its own. It doesn't have to be erected wherever the car is parked – take it right down to the water's edge, peg it down next to the mates, move it closer to the fire – set it up wherever you want!
Strong anchor points
To set it up, the portable gazebo comes with included guy ropes and heavy-duty steel pegs to anchor the 30mm thick legs in place. While it's still easy enough to set up with one person, it's heavy duty enough to protect an entire family. Rather than a thinner frame that some other gazebos come with, the very heavy-duty hammertone steel frame of this gazebo won't bend and buckle at the slightest puff of wind. There's no point in being portable if it's built so light it can't protect everyone when the weather takes a turn, which is the exact balance we had in mind when developing the Kings gazebo.
We went for heavy duty 100 percent waterproof and UPF50+ UV rated (that's the highest possible rating) material to stand up to the sun and rain. We also went for thicker metal legs and frame as well as reinforced peg-down points, while ensuring the gazebo is still light enough for a single person to transport and set up.
With the included pegs and guy ropes, anchoring the portable camping gazebo in one place only takes a couple of minutes, and then everyone can enjoy the benefits day after day.
So what are the benefits?
Apart from the best possible UV ray protection and a 100 percent waterproof roof, peace-of-mind is the biggest benefit. Don't lie awake in the swag at night scared that the shelter will blow away if a breeze picks up. If it starts to rain while cooking dinner, move the table and BBQ under the gazebo and keep on cooking like nothing has happened.
Being detached from the 4×4 or car, position the gazebo anywhere as a base camp. Need to drive the car into town to get a bag of ice or the other side of the caravan park to do a toilet run? No worries – a portable gazebo also makes the car portable at camp, providing flexibility to see the sights without having to pack up camp every time.
With a portable gazebo, make great use of camping with mates. If friends have a side awning, set the gazebo up next to it for a larger shade or at the back of their car to give shade to the side and rear. With two gazebos, have a cooking and camp set up on one side of the car and a sleeping shelter on the other. There's no limit to the ways to use a portable gazebo – many people even put them up in the backyard for parties!
In the market for some strong, multi-purpose portable camp shade? Look no further than the Kings range of gazebos. Built tough yet easy enough for one person to pack up or set up and at a price that can't be believed – you can't go wrong!
Source: 4WD Supacenter
Related Media
Additional Links