Polyform Products Inc. - the Sculpey Brand Gets a Facelift
Press Release
•
updated: Mar 12, 2020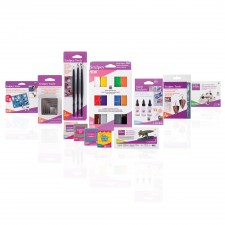 ELK GROVE VILLAGE, Ill., March 12, 2020 (Newswire.com) - Polyform Products is excited to announce that the Sculpey brand has gotten a refresh. After having the current look for over ten years, Sculpey debuts a fresh, clean, streamlined look in its packaging and website.
The goal was to create a cohesive look, which brought all of the brands together under the current Sculpey name while still keeping the essence of Sculpey brand. There is a lot of noise in the retail aisle, and the new packaging look allows for an easy connection from the sub-brands to the larger Sculpey brand. This helps the consumer experiment with all of the different Sculpey products.
Each sub-brand has its own signature color that complements the updated purple color that was kept to connect to Sculpey's brand history. The distinct sub-brand colors show the product range and facilitates shopping. The white color nicely showcases all the clay colors and products; it is also a "blank canvas" reference, reflecting endless possibilities for all craft projects. A few of the brands were renamed - EZ Shape is now Sculpey Non-Dry™, Model Air is now Sculpey Air-Dry™ and Pluffy is now Sculpey Bake Shop Light™. All of the tools, cutters and molds are now under the Sculpey Tools™ brand name.
Polyform's emphasis on being a source of inspiration and innovation for crafters is exemplified in their new tag line - "Sculpey, Where creativity takes shape!" This language speaks to Sculpey's mission of inspiring and empowering people to realize their creative potential through inspiration, education and high quality products.
"Our goal was to create a cohesive family of items that would weave the story of their features while all playing under the larger Sculpey brand. We want a new person walking up to the clay aisle to be able to instantly see the connection and understand the Sculpey brand. I think we achieved this and cannot wait for customers to see our new look in stores," said Steve Seppala, CEO Polyform Products.
To check out the new look and website visit www.sculpey.com ​
About Polyform Products Company
Founded in 1967, Polyform Products Inc. encourages creativity with innovative clays, helpful tools, technique tutorials and projects to inspire and excite. Polyform produces and distributes oven-bake clays that stay soft until baked in a home oven. The award-winning family of Sculpey oven-bake clays, manufactured in Elk Grove Village, Illinois, sets the standard for polymer clay and can be used to create beautiful home décor, jewelry, paper craft embellishments, seasonal and sculpting projects. Sculpey - Where creativity takes shape! For more information, visit www.sculpey.com.
Polyform Products Inc.
1901 Estes Avenue, Elk Grove Village, Illinois 60067
CONTACT INFORMATION:
Jennifer Courington
Jcourington@polyformproducts.com
(847) 427-0020 ext. 133
Source: Polyform Products / Sculpey