Polyform Products Inc / Sculpey Announces Liquid Sculpey Greige Granite
Press Release
•
updated: Feb 4, 2020
Available at Sculpey.com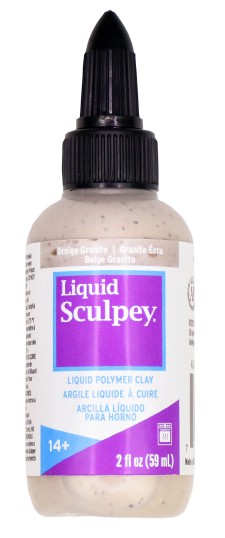 ELK GROVE VILLAGE, Ill., February 4, 2020 (Newswire.com) - Polyform Products is excited to introduce the new Liquid Sculpey web-exclusive color Greige Granite which is available in a 2 oz. bottle size.
Liquid Sculpey starts out as a liquid and then bakes into strong, flexible, lightweight pieces! It is extremely versatile – it can be used in jewelry making, home décor, as grout in mosaics, window clings and much more!
Just like traditional polymer clay, Liquid Sculpey is cured through baking in a home oven. The difference is instead of shaping it with your hands, you squeeze it out of a bottle to draw, write, fill molds and embellish your creative pieces.
Sculpey's new Greige Granite Liquid Sculpey is a beautiful beige-gray base color with dark flecks that mimic granite. It will become your new favorite go-to for jewelry and home décor projects!
"We are thrilled to be able to launch this beautiful new Liquid Sculpey color on www.sculpey.com! We have a host of fabulous projects done using this new color which will be shared on our website and social media as well," said Jennifer Courington, Vice President of Marketing.
Liquid Sculpey Greige Granite is available now ONLY on www.sculpey.com.
About Polyform Products Company
Founded in 1967, Polyform Products Inc. encourages creativity with innovative clays, helpful tools, technique tutorials and projects to inspire and excite. Polyform produces and distributes oven-bake clays that stay soft until baked in a home oven. The award-winning family of Sculpey oven-bake clays, manufactured in Elk Grove Village, Illinois, sets the standard for polymer clay and can be used to create beautiful home décor, jewelry, paper craft embellishments, seasonal and sculpting projects. Sculpey – Where creativity takes shape! For more information, visit www.sculpey.com.
Source: SCULPEY
Additional Links