Politics, Power, and Gender in Brazil: Carter Sends Support to Rousseff
Press Release
•
May 5, 2016
As Dilma fights for her presidency, an American author reaches out to Brazil's smartest woman.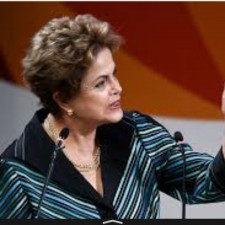 Los Angeles, California, May 5, 2016 (Newswire.com) - ​​​​​​​​Steven Carter fully understands the risks and rewards of being a smart woman in these turbulent times. His classic bestseller, "What Smart Women Know", has been reaching audiences of smart women around the world, finding a special home in Brazil where it dominated the bestseller lists for more than two full years. His books are some of the most successful American titles ever published in Brazil.
As an Honored Guest at the Bienal do Livro in Brazil, success brought Carter face to face with Dilma Rousseff, the President of Brazil. It was a celebration for the 'Year of the Woman." But that excitement did not last. The economy of Brazil has slumped, and today Rousseff's presidency is in crisis as the threat of impeachment looms. Carter fears that gender has made Rousseff a scapegoat, and he worries for her future.
"Economic decline is a bitter pill," says Carter, "and it is all too common to look for someone, anyone, to blame." Carter adds, "Rousseff's long list of accomplishments are so quickly being dismissed. Her deep commitment to Brazil and her revolutionary fervor, are being dismissed. Unfortunately, as a woman, she is a particularly easy target." Carter pauses, then continues, "It is a sad time for Brazil."
"Rousseff was smart, powerful and inspiring," Carter recalls. "Meeting the president rekindled my passion for writing. I feel I owe her so much," he added. "If I cannot be in Brazil to vocalize my support, I certainly have the opportunity right now to thank her in my work."
With the help the publishing giant Editora Sextante, Carter hopes that his audience in Brazil will continue to grow, and that women will always have access to his work. He hopes that more celebrations at the Bienal are in his future. And he continues to write about the challenges that all women must overcome. But he is most keenly focused on the challenges facing Dilma Rousseff.
Back in the United States now, Carter worries about Rousseff's future — he knows too well from his research and writing that smart, successful women are an easy target for those who are unhappy with the status quo. The author watches and laments as Dilma Rousseff struggles to hold on to her power and her position. Within the pages of "What Smart Women Know" there is a subtle wisdom that seems to predict the fate of successful women who have the courage to lead.
Today, on his cluttered desk, there sits a copy of his newest book, "Love & Self-Esteem: What the Smartest Women Know." Steven Carter hopes that this book -- a book inspired by the smart women of Brazil, and now dedicated to their leader -- will soon find a new audience, even if that audience is far from his home in Los Angeles.

Source: C.A.S. Publishing
Related Media