As Dilma Rousseff Struggles to Save Her Career, an American Author Worries About Brazil's Smartest Woman
Book News: For Steven Carter, the current political turmoil in Brazil is an opportunity to re-focus his writing, and dedicate his new book to President Dilma Rousseff.
Press Release
-
updated: May 2, 2016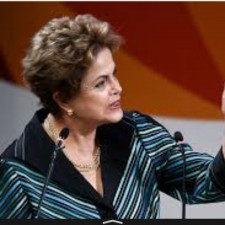 Los Angeles, California, May 2, 2016 (Newswire.com) - ​​​​​​​Steven Carter never expected his writing would bring him face to face with the president of Brazil.  And, flipping through a copy of "What Smart Women Know" at a local bookstore, a typical reader wouldn't know they are reading one of the most successful American books ever published in Brazil.  "What Smart Women Know" soared to the top of Brazil's bestseller lists in 2008 and held its place for 110  weeks — regularly holding the #2 position — joined later by its celebrated sequel, "Men Like Women Who Like Themselves."  Brazil was changing quickly, and the women of Brazil were embracing that change.
For American author Steven Carter, those were dizzying times. First came the highly publicized appearances at the Bienal do Livro. Traveling from city to city, often talking to sold-out crowds, he met Brazil's most revered authors and artists. He viewed the panoramas of Rio de Janeiro and Sao Paolo with Marcos and Tomas Pereira, founders of the publishing giant Editora Sextante.  And twice each year he would return to Brazil, ultimately joining President Dilma Rousseff at the Rio Bienal to celebrate the 'Year of the Woman.'
It was all very heady stuff, often thrilling.  "Rousseff was smart, powerful and inspiring," Carter recalls. "Meeting President Rousseff reignited my passion for writing."  After their meeting, more books would follow.  "I feel I owe her so much," he added, "and today I have the chance to thank her in my work."
As new titles were released, international praise for Steven Carter's work kept building. But after five years of uninterrupted success, the world suddenly turned, leaving Carter to helplessly watch the Brazilian juggernaut stall. As Brazil's economy slumped, book sales faltered.  "I could feel the might of Brazil begin to disappear," Carter remembers. "I feared the need for a scapegoat -- economic decline is a bitter pill."
Back in the United States now, Carter worries about Rousseff's future — he knows too well from his research and writing the risks and rewards of being a strong, smart woman.  He also wonders if there will ever be another "Brazil Story" in his lifetime. Will there ever be another great nation with an emerging middle class filled with working women who eagerly embrace his message? The author watches and laments as Dilma Rousseff struggles to hold on to her power and her position. Within the pages of "What Smart Women Know" there is a gentle wisdom that seems to predict the fate of successful women who have the courage to lead.
Today, on his cluttered desk, there sits a copy of "Love & Self-Esteem:  What the Smartest Women Know."  Steven Carter hopes that this book -- a book inspired by the smart women of Brazil, and now dedicated to their leader -- will soon find a new audience, even if that audience is far from his home in Los Angeles.
 
Source: C.A.S. Publishing
Share:
---
Categories: Books, Economy, Women's Issues, Diplomatic Relations, Foreign Government, Arts and Entertainment
Tags: Auto-ajuda, Autoajuda, Belo Horizonte, Bestseller, Bienal, Brasilia, Brazil, Commitment, Curitiba, Dilma Rousseff, Empowerment, Gender equality, Glass ceiling, Impeach, Lula, Lula da Silva, Mulheres inteligentes, Relationships, Scapegoat, Self-esteem, Self-help, Smart Woman, Smart Women, Steven Carter
---