Plotly Announces Dash Enterprise 5.2, Continuing Its Mission to Elevate Data App Development
Press Release
•
Oct 4, 2023
The Fall 2023 release will introduce Plotly App Studio with Jupyter Notebook compatibility, Artificial Intelligence (AI) integration, and an enhanced developer experience for corporate data science and analytics teams.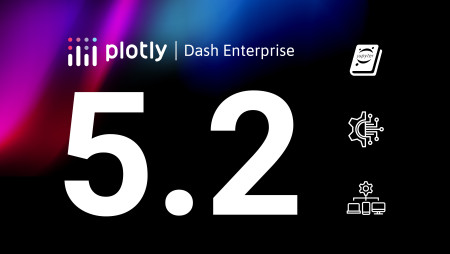 MONTREAL, October 4, 2023 (Newswire.com) - Plotly, the visionary company globally known for its Plotly graphing libraries and recognized as the creator of the Python data application framework, Dash, is excited to announce the upcoming release of its low-code data app platform, Dash Enterprise. Trusted among Fortune 500 companies for over 10 years with a steadfast dedication to innovation, Plotly continues to enable organizations to create data apps that visualize, interpret, and share critical business insights.
In the coming months, the company will unveil exciting enhancements as part of its Dash Enterprise 5.2 release. These features will continue to bridge the gap between data science and business teams with the following key capabilities:
Build production-ready data apps directly from Python scripts and Jupyter Notebooks via Plotly App Studio, a visual app editor. This new Dash Enterprise feature offers a notebook-to-app conversion tool, the ability to auto-generate code, an intuitive reactive coding interface, and the full potential of the Dash framework.
Leverage AI for streamlined data science workflows, allowing data teams to increase productivity by automating repetitive, manual tasks. New features include Copilot integration, generative smart insights, and a ChatGPT-based documentation chatbot.
Enhance Developer Experience for data app development with features including updated design themes, shareable URL links to prefilled app views, a Command Line Interface (CLI) for automating deployments, and the ability to deploy apps outside of the Dash framework.
Dash Enterprise 5.2 focuses on creating an enriched developer experience for data science teams. It empowers even those without prior knowledge of the Dash framework to harness its full potential across various applications. Notably, Plotly App Studio unlocks the potential to reduce code by up to 80%, significantly reducing prototype-to-production timelines. Overall, this comprehensive set of new features lowers the barrier of entry for data app development while maintaining the flexibility and sophistication that Plotly is known for.
"At Plotly, we're committed to making it easier and faster for data scientists to build data applications by utilizing the latest AI technologies and by providing a new visual app building experience with Plotly App Studio that seamlessly integrates with Jupyter Notebooks. We will continue to push the boundaries of what's possible in data science and simplify everything from front-end development to back-end workflows," said Jim McIntosh, Executive Chair, Plotly.
To learn more and see the new features in action, stay tuned for additional information about the upcoming release. Contact Plotly to experience the future of data science — schedule a demo today at https://plotly.com/get-demo.
Source: Plotly Technologies Inc.