PlayOn Announces PlayOn Cloud for Android TV
Press Release
•
updated: Oct 15, 2019
PlayOn now offers direct downloads to Android TV devices for in-home "offline" streaming, and whole-home DVR capabilities.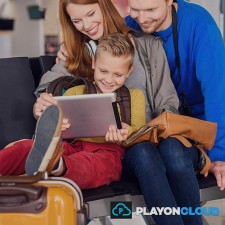 LAS VEGAS, October 15, 2019 (Newswire.com) - PlayOn today announced the launch of PlayOn Cloud for Android TV at Wispapalooza in Las Vegas, NV. Customers of wireless internet service providers (WISPs) and other limited-bandwidth (capped or throttled) internet service providers can now watch their favorite streaming movies and shows in crisp, clear HD without buffering or the other frustrations that come with limited connections or peak-time network congestion. Providers can take comfort in knowing there is now a solution for one of the biggest complaints logged by their customers; an inability to reliably and satisfactorily stream video.
"We are excited to launch support for Android TV," says PlayOn CEO Jeff Lawrence. "Now, fixed wireless customers can watch their favorite streaming shows and movies when they want, on their TV, in HD without any buffering, and without worrying about going over their plan's data caps. The whole-home DVR feature allows recordings to be downloaded once, and then watched offline, at any time, on any TV or mobile device in any room in the home. There's nothing else like it on the market today."
"To help deliver PlayOn Cloud to rural markets, we have created a white-label program for WISPs," reports Tracy Burman, PlayOn's COO. "WISPs can deliver a better streaming experience to their customers, add a new revenue stream to their portfolio, and better utilize their existing bandwidth by shifting streaming traffic out of the busy hours. It's truly a win-win for the fixed wireless industry and its customers."
More information on these new product offerings can be found at playon.tv/fixedwireless.
About PlayOn
PlayOn is the world's first, fully-featured Streaming Video Recorder (SVR). Use PlayOn to watch your favorite streaming videos on your TV, PC, or mobile device any time, even offline. Recorded TV shows and movies can be viewed ad-free, thanks to AdSkip, allowing for interruption-free binging. MediaMall Technologies, the creators of PlayOn and PlayOn Cloud, was founded in 2003 to make it simple, affordable, and fun to enjoy your favorite movies, TV shows, and videos from the internet on your TV or on your mobile devices. MediaMall has offices in New York and Seattle. Visit us at www.playon.tv or www.playoncloud.com.
Media Contact:
Jim Holland
​MediaMall Technologies Inc.
press@playon.tv
Source: PlayOn