Platinum Plus Services Now Offering No Risk Clean Room Data Recovery Services
Press Release
•
Aug 1, 2016
Platinum Plus Services, a company leading the Data Recovery Market in the San Fernando Valley Area, is now reaching out to owners of failing hard drives by announcing that they are offering "No Risk Clean Room Recovery Services".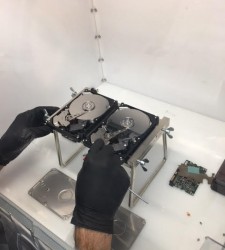 Glendale, CA, August 1, 2016 (Newswire.com) - ​​​​Platinum Plus Services, a company located in Glendale, CA that specializes in hard drive Data Recovery, has announced today that they will now be offering "No Risk Clean Room Data Recovery Services". Platinum Plus Services is setting themselves apart from other companies in the data recovery industry because they are the ONLY company in the market that offers a No Data = No Charge policy on any and all clean room data recovery services. We asked the owner of the company to clarify the differences between standard data recovery and clean room data recovery services and he explained,
"Majority of data recovery jobs we receive are drives that have logical or electronic problems. For example, drives with bad sectors, data deleted, drive formatted, power surges and so forth. Clean room recovery services are required for drives that have had physical damaged (dropped, adapter pulled while drive is still running, read/write heads no longer reading, drive making clicking sounds). The mechanical precision of modern day hard drives makes head assembly replacement nearly impossible without top of the line, specialized tools. Platter removal and head replacements are very dangerous and if one component is out of alignment, the drive will not find the required sectors to read the data. If a clean room job is not done with acute precision and the right tools, a hard drive will endlessly try to find those sectors and it could even completely shut down."
As many of you already know, hard drives are a combination of sophisticated electronic and mechanical systems that incorporate a number of specialized motors and electromechanical components to read and write the stored data. There are a variety of reasons for hard drive failures, including: physical damage when the drive is jarred due to mishandling of the drive, when the hard drive is powered off at the wrong time, power spikes or fluctuations that damage the internal electro-mechanical components or cause them to seize up because of high temperatures and not enough airflow to keep the internal unit cool. Because there are so many complications that can cause an hard drive to fail, it is typical for data recovery services that require clean room repairs to be very costly. Most jobs start at $1,200 and can easily reach up to $3,000.
We compared prices with 5 of the leading data recovery companies in the greater Los Angeles area and Platinum Plus Services by far was the most affordable company with the best terms due to the "No Data = No Charge Policy." Customers are not left to pay for a service or a deposit for a clean room job if the data recovery process is unsuccessful. We were surprised to find out why the company would offer a policy that none of the competition provides, so we decided to ask the owner of the company why Platinum Plus Services offers this customer friendly pricing model. He explains why below:
"Our number one priority is and will always be providing the best customer experience while recovering irreplaceable data for our customers. While every other Data Recovery company that offers clean room services charges a non-refundable upfront fee for their attempts, we don't feel this is fair for the customer. Why should a customer have to pay a fee if the company is unsuccessful in recovering any of the customer's data? If I was a customer, I would expect to only pay for services received, not for any unsuccessful attempts. We always strive to put ourselves in the shoes of our customers so we adapt our policies to best accommodate our customers. This is why we offer the No Data = No Charge on all of our data recovery services."
Furthermore, the company also stated that they offer 24/7 customer support via phone,email, and text messages to customers who have questions about recovering data from a damaged drive. We can tell from our short interview with them that they truly have a passion for what they do and value customer service as they strive to be the best data recovery company in the market.
Source: Platinum Plus Services
Related Media
Additional Links