Platinum Plus Services Data Recovery Specialists Offering Free Same Day Hard Drive Diagnoses
Press Release
•
Jul 21, 2016
How one Data Recovery company is shining from the rest. Offering same day diagnosis, upfront recovery prices and unparalleled customer service.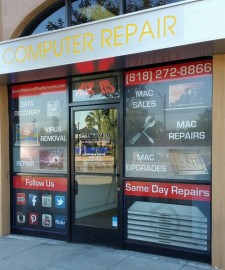 Glendale, CA, July 21, 2016 (Newswire.com) - ​​​​Platinum Plus Services, company that specializes in fast and affordable data recovery services located in Glendale, CA announced today that they will be offering FREE same day hard drive diagnosis on logically and physically damaged hard drives. Although the business is new to the Glendale, CA area, Platinum Plus Services has grown in the Data Recovery market at a rapid pace. With over a thousand successful data recovery jobs under their belt, they are constantly creating new and creative special discounts and promotions for the local community and even reaching out to people outside of California.
We were able to sit down with with the owner of the company, Vahan Hovsepian, about the company's new 'Same Day Service' feature and he explains below:
"We understand how stressful the idea of losing irreplaceable data may be. Customers would call or come into our shop, frantic and on the verge of breaking down. The first question they would ask us would be, 'Can you recover all of my data and how long will it take?' Now putting ourselves in the customer's shoes, the anticipation of finding out when and if the data will be recovered would be very painful. We should expand our workforce and invest in more equipment in order to give our customers peace of mind as soon as they leave our shop. With our new system in place our customers now at least have a general idea of the chances of recovery and approximately how long the job will take. The responses we've received from our customers about our customer service oriented process has just been amazing."
When we pressed Vahan to illustrate a picture of the process for us he wasn't hesitant to answer our questions or provide information, whatsoever. Vahan goes on to further explain that:
"As soon as the customer comes in, we get a little more information from them about how the drive failed. We then give them a little information (without overwhelming them) about how drives work and what may have caused the drive to fail. Then as the customer is waiting, we will connect the drive to our disk imagers and demonstrate how the machine works and show the process of the customer's data being recovered."
For Platinum Plus Services, the trust and loyalty of each and every one of their data recovery customers is very important to the owner and employees. They value the idea of fundamental customer service and catering to each person to make the process more personable and less technical. The company's yelp page is pretty much a resume that shows how the company treats each individual by providing 5-star rated services. Due to Platinum Plus Services' on the spot diagnosis, customers are not left wondering about the chances of a successful recovery, how much the job will cost, and estimated turn around time. The customer service that the technicians at Platinum Plus Services provide is unparalleled.
Source: Platinum Plus Services
Related Media
Additional Links