Planting Fall Bulbs Brings Amazing Spring Color
Press Release
•
updated: Sep 4, 2018
HomeGardenandHomestead.com selects the best fall bulbs to plant now for a colorful yard next Spring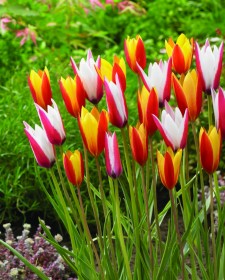 SANTA FE, N.M., September 4, 2018 (Newswire.com) - The month of September is always an exciting time of year. The dog days of summer finally come to an end and there's a distinct chill to the air in the evenings. Fall is coming and for the savvy gardener, that means it's time for planting fall bulbs.
"Nothing says 'It's Springtime!' quite like hyacinths, crocuses, daffodils and tulips bursting into bloom," said Randy Schultz, content editor for HomeGardenandHomestead.com, a top website for home and garden trends and information. "If you want these beautiful flowers in your garden next spring, now is the time to plant them. That's why we put together a list of our favorite varieties of bulbs for fall planting, and we also created a handy how-to list for planting fall bulbs."
Nothing says 'It's Springtime!' quite like hyacinths, crocuses, daffodils and tulips bursting into bloom. If you want these beautiful flowers in your garden next spring, now is the time to plant them. That's why we put together a list of our favorite varieties of bulbs for fall planting, and we also created a handy how-to list for planting fall bulbs.

Randy Schultz, Content Editor for HomeGardenandHomestead.com
Why it's the perfect time for planting fall bulbs
During the busy fall season filled with harvesting and raking leaves, it's easy to forget about planting spring-blooming bulbs. But planting fall bulbs should be a must on every gardener's autumn list. Here's why:
Planting fall bulbs is frugal and easy. Bulbs are very affordable and widely available in fall. Everyone can find a huge variety online and at local nurseries.
Early spring bulbs add color when it's needed most. Crocuses and hyacinths are among the first to emerge in late winter, when people are feeling the most desperate for spring color.
Bulbs fit anywhere. Spring-flowering bulbs are nice, compact plants. They are perfect for filling in empty spots in garden beds.
Animals don't eat them. Several varieties of fall bulbs, such as daffodils and hyacinths, are deer- and rabbit-resistant.
They come back. When planting fall bulbs, remember that they are perennials. That means they'll keep coming back every spring, year after year.
They're low maintenance. After planting, fall bulbs require almost no maintenance. They emerge too early in spring for most pests, never get unruly and basically take care of themselves. A little deadheading and light fertilizing are all that's needed.
It's fun! Planting fall bulbs is a lot like hiding buried treasure in the yard.
THE BEST SPRING-FLOWERING BULBS TO PLANT IN FALL
Not all flowering bulbs should be planted in the fall. Summer bloomers like gladiolus and dahlias are best planted in spring. But the following spring-blooming bulbs selected by HomeGardenandHomestead.com are happiest when they spend the winter underground:
Tulips
Tulips are the queens of the spring bulb garden because of their colorful, showy flowers. The wild tulips that are native to the drier areas of Central Asia have mostly red and yellow flowers. In addition to these colors, today's hybrid tulips bloom in a full range of colors from pink and burgundy to white and purple.
Those who love the look of traditional species tulips will appreciate the Tulip clusiana Mix from www.burpee.com. Planting fall bulbs like these species tulips will result in a wonderful display of 6-8-inch-tall flowers in April to mid-May. In full bloom, the graceful flowers stand atop slender stems and narrow leaves. The petals open each day to reveal the bright yellow, pink and white shades inside before slowly closing up again each evening. Traditional species tulips like these are deer-resistant and they are great for naturalizing in the garden to return year after year.
A new mixture of hybrid tulip bulbs called Wedding Gift Collection is a delightful mix of pastel pink, light purple and pure white peony tulips. (They're called peony tulips because the flowers have so many petals that they resemble peony flowers.) These three colorful tulip varieties bloom at the same time and their double flowers make a carpet of flowers in spring. Besides the beauty of their flowers, which reach 16-18 inches tall, these tulips have a nice fragrance. The Wedding Gift Collection is available from www.DutchGrown.com.
Crocus
Crocuses are known as the harbinger of spring because they are typically the first flowers in the garden. In some years, Crocus bulbs start blooming before the last of the winter snow has melted. Another great thing about Crocuses is how easily they can naturalize in the landscape, flowering year after year.
A mixture of Crocus bulbs called Crocus Delft Blue Blend from www.WaysideGardens.com offers Crocus flowers in shades of blue and lavender, and some are striped with white. The large 3- to 4-inch blooms put on a colorful show and look great while framed by the bright green foliage. The plants stay small — just 4 to 6 inches tall and 4 inches wide. Deer and other nibbling animals tend to leave these bulbs alone. Mass plantings make great borders for perennial gardens. Crocus bulbs thrive in USDA Zones 3-9, making it a great choice for many gardens.
Daffodils (Narcissus)
Daffodils are another popular choice when planting fall bulbs. Yellow is the color that instantly comes to mind when thinking of daffodils, but many other flower colors are now available.
For a softer, more delicate look than traditional bright yellow, Daffodil British Gamble is a great choice. The large pure-white outer petals frame a frilly pale apricot-pink center trumpet, giving this flower a distinctive look in the early- to mid-spring garden. British Gamble offers a long blooming time, so gardeners can enjoy these flowers for weeks at a time. The large flowers grow to 18 inches tall and they make excellent cut flowers to bring indoors. The bulbs are available from www.DutchGrown.com.
Allium
The tall, globe-shaped flowers of Allium bulbs are a stunning sight in the late spring or early summer garden. Ornamental Alliums are related to onions and garlic, and the large bulbs look a lot like a harvested onion.
One of the largest varieties of flowering Allium is called Globemaster and it reaches 2 ½ to 3 feet tall with flower clusters that are a full 8 inches wide. This terrific Dutch hybrid blooms for up to three weeks, repeating more reliably than many other Allium varieties. Because it's a sterile plant, it puts all its energy into producing more flowers instead of making seeds. The result is a large, dramatic flowering plant that makes a great focal point in the garden. Available from www.WaysideGardens.com. It thrives in USDA Zones 4-8.
Hyacinths
Hyacinth bulbs are another popular flower in the spring garden. The flower stalks are sweetly fragrant, filling the air with the smell of springtime. The blooms are quite long-lasting and the strong stems refuse to topple even in strong spring winds or rainstorms.
A variety called Apricot Passion introduces a subtle shade of apricot-pink to the world of hyacinth flowers. In full bloom, the flower stalks are covered with large star-shaped florets. The flowers can reach 8-12 inches tall, making them an excellent choice for borders and walkways in the spring garden. Apricot Passion Hyacinth can be grown in USDA zones 4-9, so it's a great choice for warmer climates where other bulbs can sometimes struggle. Bulbs are available from www.burpee.com.
Ipheion (Starflower)
Ipheion, more commonly known as Starflower, might just be the longest-blooming bulb in the spring garden. Starflower "Jessie," from www.WaysideGardens.com, is a close relative of Allium and it blooms readily even in the shade. The deep blue flowers feature wide, flat petals and black and yellow dotted centers that look absolutely nothing like globe-shaped Allium flowers. Best of all, the flowers can last up to eight weeks in the spring garden.
The blossoms have a pleasant aroma and the foliage has an onion-like scent that is effective in repelling nibbling animals like rabbits and deer. When not in bloom, the little plant reaches just a few inches tall. When topped with flowers, it is 9 to 12 inches tall. The foliage often goes dormant in the heat of summer and reappears in the fall. Starflower "Jessie" was developed by Tony Hall of the Royal Botanic Gardens at Kew. It thrives in USDA Zones 5-9, making it a good choice for warmer climates.
A step-by-step guide to planting fall bulbs
Choose the best planting sites. Select spots near walkways and patios where the flowers will be most visible. Most spring-flowering bulbs aren't too picky about growing conditions, as long as the soil drains well.
Select and order personal favorite bulbs.
Plant at the right time. Bulbs do best when planted as the ground starts to cool down in early- to mid-autumn, but not so late that they'll freeze right away. A good rule of thumb is to wait until evening temperatures consistently cool down to 40-49 degrees F. For most climates, this will be about six weeks before the average first frost date.
Dig a hole for each bulb. To make the job easier, use a handy planting tool called the DIY Guru Auger from www.PowerPlanter.com. This tool fits right into a hand-held power drill, and it quickly drills holes into the soil that are perfect for planting fall bulbs. (The tough steel DIY Guru Auger is also great for other jobs around the house and garden like mixing gallons of paint or batches of fertilizer.)
Add a little compost into the hole and drop in a bulb (pointy side up).
Gently fill in the hole with the loose soil and pat it down.
Water well to encourage the bulb to start growing roots.
Give buried bulbs a little water during really dry spells in winter.
Source: HomeGardenandHomestead.com
Related Media