Plankton Energy Installs 229 kW Solar System for Cheshire Academy
Press Release
•
Feb 8, 2023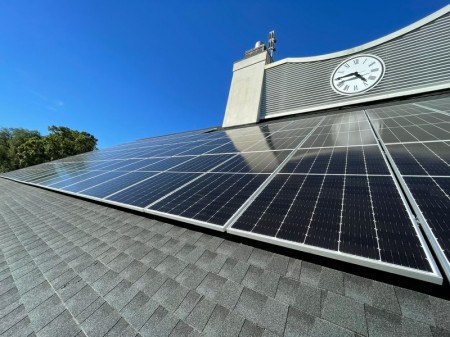 NEW YORK, February 8, 2023 (Newswire.com) - New York solar energy developer Plankton Energy recently energized a 229 kW rooftop solar system at Cheshire Academy in Cheshire, CT. By utilizing the roof of the campus facilities building, the John J. White '38 Science & Technology Center, and the Gideon Welles Dining Commons, the electricity needs of each of these buildings will be supplied by onsite solar power.
Funded entirely by Plankton Energy, at zero cost to Cheshire Academy, the system is expected to generate approximately 272,000 kWh of solar power annually. Over the lifetime of the system, Cheshire Academy will save over $297,000 on electricity expenses and avoid over 1,248 metric tons of CO2 emissions, the equivalent of avoiding burning 140,000 gallons of gasoline. The panels serve as a visible reminder of the Academy's commitment to sustainability and environmental stewardship.
"Our mission is to empower students to thrive as global citizens. Nothing is more global than our environment, and the solar cells and energy made possible through our work with Plankton is a daily reminder to our students, faculty, staff, alumni and visitors that acting locally has positive global impacts," said Jennifer Dillon, Sustainability Coordinator of Cheshire Academy
"We're thrilled to see this project come to fruition. Our team was grateful to partner with the team at Cheshire to assist them in achieving their environmental goals," said Dan Giuffrida, CEO of Plankton Energy.
The success of this project was made possible by the Connecticut Zero Emission Renewable Energy Credit Program and by the Federal Investment Tax Credit (ITC), which was recently extended for 10 years through the Inflation Reduction Act.
Plankton Energy is a turnkey solar energy provider dedicated to serving schools, houses of worship, small and medium enterprises and community solar across the United States. Plankton supports schools and community institutions like Cheshire Academy to save considerably on their electricity bills and pioneer energy choices that align with their sustainability values.
Founded in 1794, Cheshire Academy is a college preparatory boarding and day school for students in grades 9-12 and postgraduate. The historic 104-acre campus is nestled in the bucolic but central town of Cheshire, Connecticut, just two hours from Boston and from New York. With approximately 343 students from 14 states and 27 countries, Cheshire Academy takes a flexible and tailored approach, allowing students to combine a variety of academic and extracurricular offerings optimal to their individual needs, strengths, and interests.
Source: Plankton Energy