Plan Your Next Adventure, With Journalist Explorer Kinga Philipps
Press Release
•
updated: May 25, 2018
One of the Most Unique Travel Experts Shares with TipsOnTV Her Latest and Greatest Travel Trends, Dream Destinations & Must-Have Accessories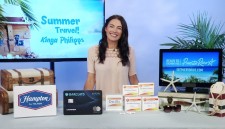 ATLANTA, May 25, 2018 (Newswire.com) - For more than a decade, Kinga Philipps has been traveling the globe… rappelling, caving, scuba diving, free diving, jumping out of airplanes and swimming with sharks as the host of two TV shows, including "The Wildside with Kinga Phillips." In fact, Kinga has channeled her adventurous spirit into a career as a writer, producer and on-camera journalist for all the networks. Just in time to start planning this year's next great adventure, this unique journalist is available to share her vast experience as a world traveler. Learn about a hot new "dream" destination, and some unique tips to make travel both safer and easier.
When Planning a Trip, Where to Start
First, it should be noted that 52% of Americans do not take all their vacation days. Most people squeeze in time off during obligated trips, like staying a couple of extra days during a business trip or turning a kid's soccer trip into a vacation for the whole family. That why Kinga is partnered with Hampton by Hilton whose Real Travel campaign encourages travelers to make the most of these trips. A few tips for the next business or family trip: set aside some "ME TIME" and research a location. Find the hidden gems. Hampton by Hilton has 23-hundred properties and value-added amenities like complimentary Wi-Fi and free, hot breakfast, plus they have amazing fluffy waffles. Travelers can book their next Real Travel getaway at Hampton.com and Hilton Honors members even get a guaranteed discount when they book direct. For more information, visit Hampton.com.
Best Travel Tip Using Rewards for a Vacation
Like most Kinga never wants to see a vacation come to an end, but loves looking forward to that next adventure and is a fan of anything that facilitates that. That is the great thing about the new Barclays Arrival Premier Mastercard. It rewards loyalty year after year so you can keep vacationing. Take a look at the card's terms and conditions, you can earn 75,000 miles each year if you spend $25,000 on purchases, after that, keep earning unlimited 2X miles on every purchase! The Arrival Premier Card is awesome because the more it is used, the more miles earned to use toward vacations and there are no airline, seat or hotel restrictions. Kinga loves it because she can book the vacation she wants and use miles to redeem for travel statement credits anytime, anywhere, year after year. For more information, visit ArrivalPremier.com.
A Destination that may Not have been thought of
Puerto Rico is Kinga's top choice! It has everything from pristine beaches to delicious food, and it has truly become a cultural Caribbean hub for those who like to enjoy a completely different culture without the need of a passport, because it is a part of the U.S. With 135 hotels open and 1,885 restaurants operational island-wide, Puerto Rico is very much open for business and has been welcoming travelers. Nearly all Americans (90%) like it when the money they spend on vacation helps the local economy of a destination, so Kinga recommends booking a flight to Puerto Rico and checking it out! Staying at hotels, eating at local restaurants, buying from local businesses and partaking in Island activities is the best way to support. For those wanting to save a buck or two, they will find the hottest summer deals here, when they visit: SeePuertoRico.com.
Advice for Staying Healthy While Traveling
Getting sick while traveling can put a damper on even the best of vacations so that is why Kinga always has non-drowsy Oscillococcinum with her. Take it the moment one feels body aches, headache, fever, chills or fatigue coming on. It is ideal for travelers on the go as it comes in easy-to-take pellets that dissolve under the tongue. It is also TSA friendly as there is no need for water, and it tastes great! Everyone ages two and up can take it and it is widely available in supermarkets and drug stores. For more information, visit www.oscillo.com.
www.tipsontv.com
Contact: tipsontv@gmail.com
Source: Tips on TV
Related Media