PhysicianOne Urgent Care to Join Alex's Lemonade Stand Foundation to Continue the Fight Against Childhood Cancer
PhysicianOne Urgent Care to donate funds to Alex's Lemonade Stand Foundation (ALSF) from lemonade stands across Connecticut, Massachusetts, and Westchester, NY
Press Release
-
updated: Jun 1, 2017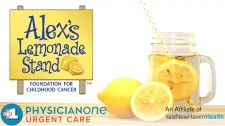 CHESTNUT HILL, Mass., June 1, 2017 (Newswire.com) - With Memorial Day in the rearview, the summer of 2017 has unofficially begun. This year, PhysicianOne Urgent Care is kicking off the season by helping to kick childhood cancer to the curb, as a partner of Alex's Lemonade Stand Foundation's Lemonade Days. New this year, Lemonade Days runs for a full week, June 3rd to June 10th.
Alex's Lemonade Days is a national volunteer fundraiser commemorating ALSF founder, eight-year-old Alexandra "Alex" Scott's challenge to help her raise $1 million for childhood cancer cures, one cup of lemonade at a time. PhysicianOne Urgent care is hosting 18 lemonade stands between June 1 and June 10 to continue Alex's mission and bring renewed attention to the fight against childhood cancer. Since 2004, more than 24,000 Lemonade Days stands have been held nationally, raising over $13 million. One hundred percent of the proceeds raised during PhysicianOne Urgent Care events will be donated to Alex's Lemonade Stand Foundation.
"We are proud to support Alex's Lemonade Stand Foundation across all of our communities during Lemonade Days. Many of our providers specialized in Pediatrics before joining PhysicianOne Urgent Care, so children's causes are near and dear to us," said Andrea Tager, Director of Marketing at PhysicianOne Urgent Care.
Founded in 2008 by three physicians in Connecticut, PhysicianOne Urgent Care is an industry-leader with 12 locations in Connecticut, four in Massachusetts, and two in Westchester County, New York. Additional locations are set to open throughout 2017.
If you would like to join PhysicianOne Urgent Care during their Lemonade Days events in a community near you, please visit PhysicianOne Urgent Care's Facebook page to find an event. For more information about Alex's Lemonade Stand Foundation, or to host a lemonade stand of your own, please visit AlexsLemonadeDays.org.
About PhysicianOne Urgent Care
PhysicianOne Urgent Care provides quality, easily accessible, walk-in medical care for non-life-threatening illnesses and injuries. All 18 locations throughout Massachusetts, Connecticut, and New York are open 365 days per year; 8:00 a.m. to 8:00 p.m., weekdays, and 9:00 a.m. to 5:00 p.m., weekends and holidays. Experienced providers are on-site at all times, and X-ray, lab, suturing, and IV services are available at all locations. Insurance is accepted, and affordable self-pay options are available. Parking is available at all locations. 
Founded in 2008, PhysicianOne Urgent Care was the first in the market to be accredited and certified by the Urgent Care Association of America and is currently the only UCAOA Accredited urgent care organization in Connecticut. In Connecticut and New York, PhysicianOne Urgent Care is proud to be an Affiliate of Yale New Haven Health.
For more information, including a list of services, locations, insurances accepted, career opportunities, to view wait times and check in online, and more, please visit www.PhysicianOneUrgentCare.com.
About Alex's Lemonade Stand Foundation
Alex's Lemonade Stand Foundation (ALSF) emerged from the front yard lemonade stand of cancer patient Alexandra "Alex" Scott (1996-2004). In 2000, 4-year-old Alex announced that she wanted to hold a lemonade stand to raise money to help find a cure for all children with cancer. Since Alex held that first stand, the Foundation bearing her name has evolved into a national fundraising movement, complete with thousands of supporters across the country carrying on her legacy of hope. To date, Alex's Lemonade Stand Foundation, a registered 501(c)3 charity, has raised more than $120 million toward fulfilling Alex's dream of finding a cure, funding over 550 pediatric cancer research projects nationally. For more information on Alex's Lemonade Stand Foundation, visit AlexsLemonade.org.
Contact
Andrea Tager
​Director of Marketing
PhysicianOne Urgent Care
atager@physicianoneurgentcare.com
###
Source: PhysicianOne Urgent Care
Share:
---
Categories: Non Profit, Healthcare, Pediatrics
Tags: alex's lemonade stand, children, non-profit, pediatric
---