PhysicianOne Urgent Care and Waltham YMCA to Offer Flu Clinic on November 8
Press Release
•
updated: Nov 5, 2019
Flu shots available at no cost* during the flu clinic at the Waltham YMCA from 10 a.m. to 1 p.m.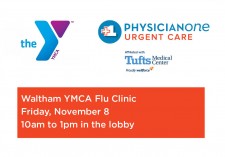 WALTHAM, Mass., November 5, 2019 (Newswire.com) - PhysicianOne Urgent Care, in partnership with the Waltham YMCA, is offering a flu clinic on Friday, November 8, from 10 a.m. to 1 p.m. at the Waltham YMCA located at 725 Lexington Street, Waltham, MA, 02452.
During the flu clinic, and through November 15, PhysicianOne Urgent Care is offering no-cost* flu shots at all centers in Connecticut, New York and Massachusetts.
"The Centers for Disease Control and Prevention (CDC) is urging patients to get vaccinated early this year. The best time to get a flu shot is before November, when flu season starts to pick up. The antibodies in the flu vaccine take approximately two weeks to be effective against the flu virus, so it is important to be vaccinated before flu season starts," says Dr. Jeannie Kenkare, Chief Medical Officer and co-founder of PhysicianOne Urgent Care.
The flu clinic at the Waltham YMCA will offer patients the ability to quickly get the flu vaccine without having to go into a physician's office.
"We understand that people are busy and having to schedule an appointment for a flu vaccine might otherwise deter patients from getting one," says Dr. Kenkare. "So, we are thrilled to be working with the Waltham YMCA to help get as many people as possible vaccinated in the community."
PhysicianOne Urgent Care has hours that extend beyond the normal primary care provider hours and has locations across Connecticut, Massachusetts, and New York. The company has four locations in the Greater Boston area, including Chestnut Hill, Medford, Waltham and Westwood. Walk-in or check-in online to any PhysicianOne Urgent Care location seven days per week.​​ No appointment is necessary and most insurances are accepted.
*Please visit www.p1uc.com for details. ​Flu shots for ages 4 years+. Health insurance information and a photo ID needed at time of clinic. Please call 1.855.349.2828 with any specific questions.
About PhysicianOne Urgent Care
PhysicianOne Urgent Care provides quality, easily-accessible, walk-in medical care for non-life-threatening illnesses and injuries. All 19 locations throughout Massachusetts, Connecticut, and New York are open 365 days per year; 8:00 a.m. to 8:00 p.m., weekdays, and 9:00 a.m. to 5:00 p.m., weekends and holidays. Experienced providers are on-site at all times. X-ray and lab services are available on-site. Insurance is accepted; self-pay options are also available. Parking is available at all locations. Founded in 2008, PhysicianOne Urgent Care was the first in the region to be accredited and certified by the Urgent Care Association. PhysicianOne Urgent Care is proud to be an Affiliate of Yale New Haven Health in Connecticut and New York and partnered with Tufts Medical Center in Massachusetts. For more information, including a list of services, locations, insurances accepted, career opportunities, to check-in online, and more, please visit www.p1uc.com.
ABOUT THE YMCA OF GREATER BOSTON:
The YMCA of Greater Boston is one of Massachusett's leading nonprofits committed to strengthening communities by improving health, empowering youth and activating people for good. Every day, the Y works with thousands of men, women and children to ensure that everyone, regardless of age, income or background, has access to Y programs and services. As the nation's fifth-largest charity, the Y is creating a community of caring people through meaningful memberships. For more than 165 years, the Y has been developing skills and emotional well-being through education and training, welcoming and connecting diverse populations, preventing chronic disease and building healthier communities. The YMCA of Greater Boston is America's first Y.
Contact
Lindsey Holland
Marketing Manager
###
Source: PhysicianOne Urgent Care