Phoenix Area Vacation Rentals Seen as Attractive Investment
Press Release
-
updated: Sep 5, 2017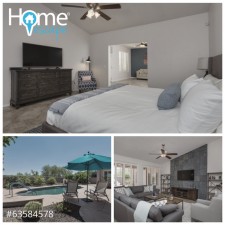 PHOENIX, September 5, 2017 (Newswire.com) - With strong economic growth the last year, Arizona is increasingly being seen as smart place to invest in vacation home rentals. The Phoenix area, especially Scottsdale vacation rentals, Mesa vacation rentals, and Phoenix vacation rentals, are great places for owners to take advantage of the swelling retiree and snowbird population.
Between the strong economy driving real estate prices, and the perfect climate for travelers, now is a great time to invest in a vacation home rental in Arizona. Vacation rentals are a desirable alternative for many travelers – they offer unprecedented levels of space, amenities, and convenience, unlike the majority of hotels. More and more travelers are expected to switch allegiance from hotels to vacation rentals.
"We are seeing a huge increase in travelers who say they are done with hotels," says Avi Vaknin CEO of HomeEscape. "This has been demonstrated in the record number of signups our site has had the last few months."
Amenities That Vacation Rentals Have That Hotels Don't
1. Privacy. Vacation rentals also are being sought out by travelers who are increasingly looking for privacy. Houses have private balconies and entrances. This means that travelers do not have to walk through the lobby every time they return to their unit. Some units have private pools and barbecue grills.
2. Safety. From exclusive codes on the locks, to having gates with guards, vacation rentals are very safe – which is very important for traveling families.
3. Laundry. This is a huge benefit for vacationers. Families often go through many sets of clothes on vacation; and having an in-home laundry can make a world of difference – it also means that families can pack fewer clothes and save on baggage fees while flying.
4. Cooking at Home. Most families know that the costs of eating out can quickly become prohibitive. Which is why the ability to cook from a vacation rental is so highly coveted. Moreover, children are more apt to be satisfied knowing that they can grab a quick bite to eat when they need it, instead of waiting to sit down and wait through a long restaurant meal.
5. Extra Space. Unlike a singular hotel room, vacation rentals deliver on space. Families can relax knowing that everyone has their own space when staying in a vacation rental. Kids can play in the living room while parents catch up on nap time, or vice versa. Plus, if families invite other relatives over, there's a lot more room to catch up than in a cramped hotel room.
6. Entertainment Options. Vacation rentals have a lot to offer. Whether it is swimming in a private pool, walking in a nearby park, free movie rentals, nearby restaurants, or relaxing in a private backyard, vacation rentals can keep a family occupied all day.
About HomeEscape: HomeEscape connects homeowners and property managers with travelers who seek the space, value and amenities of vacation rental homes as an alternative to hotels. With detailed property descriptions, photos and list of amenities and nearby attractions, HomeEscape makes it easy to find and compare properties all over the world.
Source: HomeEscape
Share:
---
Categories: Travel, Vacations and Travel, Business Travel, Family Travel, Group Travel, Travel, Transportation, and Hospitality News
Tags: Arizona Vacation Rentals, Phoenix Vacation Rentals, Scottsdale Arizona Vacation Rentals, Vacation Home Rentals, Vacation Rentals
---