Philippine's Acudeen Technologies Wins Seedstars World Competition in Switzerland and Will Receive Up to USD 500,000 in Equity Investment
Press Release
•
updated: Apr 12, 2017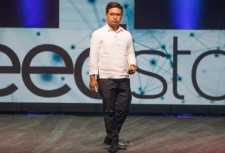 LAUSANNE, SWITZERLAND , April 12, 2017 (Newswire.com) - Seedstars World, the global startup competition in emerging markets organised by Seedstars, brought its 2016 round to a successful close at the Seedstars Summit, hosted at the SwissTech Convention Center in Lausanne, Switzerland. After travelling to 65 different countries to find the best seed stage startups, the Seedstars team invited the local winners to the final round to compete for equity investments of up to USD 500,000, as well as other exciting prizes. After participating in a two-day bootcamp and an investor forum, 12 startups were selected to compete and pitch on the main stage, in front of a crowd of 1000+ participants and a panel of international jury, consisted of Charles Lorenceau, Director at ACE & Company UK, Cedric Waldburger, CEO at Tenderloin Ventures and Pierre-Alain Masson, Co-founder at Seedstars Group. The grand winner of the fourth edition of Seedstars World was Acudeen Technologies, from the Philippines.
The Filipino startup, founded by Mario Jordan "Magellan" Fetalino III, was awarded the Seedstars trophy on stage by Pierre-Alain Masson, Co-founder at Seedstars Group and crowned the "Seedstars World Global Winner 2016" for their innovative solution that turns SMEs invoices into cash through discounting of their receivables, providing them with necessary working capital they are not getting from the banks. Magellan talked to us about winning the prize and what it means to his company:
"Seedstars was an incredible experience. Much more than just money, it gives me access to community of a like-minded entrepreneurs with whom I hope I will collaborate to create a bigger impact worldwide."

Mario Jordan, The Filipino startup
"Seedstars was an incredible experience. Much more than just money, it gives me access to community of a like-minded entrepreneurs with whom I hope I will collaborate to create a bigger impact worldwide."
In addition to the USD 500K investment prize for the Seedstars World Global Winner, 5 other startups were awarded special prizes:
Asafeer Education Technologies from UAE was awarded the TRECC Transforming Education Prize, a grant of USD 50'000, presented by TRECC.

UnDosTres from Mexico was awarded the PayU Fintech Prize, with full access to the Seedstars Growth program, tickets to Money2020 and mentoring by PayU team.

qAIRa from Peru was awarded the prize for Best Woman Entrepreneur, presented by Hublot.

PiQuant from South Korea was awarded the prize for Most Innovative Startup, presented by Hublot.

Mind Rockets from Jordan was awarded the Public Vote, presented by The Office for Economic Affairs (SPECo), which is the Office for Economic Affairs of the State of Vaud in Switzerland
The 12 finalists startups selected were:
TalkBank from Russia

Segmentify from Turkey

Mind Rockets from Jordan

Raye7 from Egypt

Apli from Mexico

Ultra Casas from Bolivia

Edupass from Dominican Republic

LayUp / Creative eLearning (Pvt) from Sri Lanka

Acudeen Technologies from Philippines

uHoo from Hong Kong

Jamii / EdgePoint Digital from Tanzania

Kasha from Rwanda
VIAGlobal, the US Launchpad for International Startups, presented the Virtual Presence Prize for US Expansion to Democrance and REDOXIGEN at the Seedstars World Investor Forum, both startups will receive 12-months of VIAGlobal's Virtual Presence services, which provide an economical solution for companies that want to expedite a commercial presence in the U.S. without moving personnel immediately.
The Seedstars Summit also featured a broad range of workshops that probed different topics from agriculture and healthcare to investment and e-commerce. The workshops included an insightful panel discussion about how to get the best investment valuation in emerging markets in collaboration with The Office for Economic Affairs (SPECo), a think-tank style Fintech workshop that tackled banking challenges in low interest environments powered by BBVA, a digital health and bio hacking workshop brought by MERCK, an ecommerce challenge to find new ways of doing business across borders by FedEx, an AgTech & Goodtech workshop powered by BUHLER, a brainstorming session between telcos and startups to engage stakeholders moderated by GSMA, a workshop on edtech brought by TRECC, a lively
session about graduating VC entrepreneurs to PE with EMPEA and a workshop about the future of energy powered by ENEL green. The workshops were fulfilled with live discussion in groups to determine the exact step-by-step actions and solutions to tackle the problems indicated in the topics of the workshops.
Keynote speeches were presented by Bob Collymore, CEO at Safaricom on "Opportunity or Challenge?"; Richard Eldridge, Co-Founder & CEO at Lenddo on "Beyond the Beach: Opportunities in SE Asia"; Kamran Elahian, Innovation Catalyst, serial entrepreneur and philanthropist on "Techpreneurship in AMENA: Create Chaos to Avoid Chaos?"; Gary Urteaga, Founder at CinePapaya on "My Startup Journey from Peru". A fireside chat "Hunting Ground for the World's Best Developers" featured Alexander Galitsky, Co-Founder & Managing Director at Almaz Capital and moderated by Alex Barrera, Co-founder & Editor at tech.eu.
Seedstars also officially launched Seedstars Community, a network of startup ecosystem enablers and doers across emerging markets. The community will connect Seedstars World peers with each other and potential customers and service providers. All the community members will benefit from access to Seedspaces globally and special offers and deals from Seedstars partners in 60+ countries.
Pierre-Alain Masson, co-founder at Seedstars, also announced a series of initiatives:
Together with TRECC, Seedstars will build companies that will disrupt Education by driving access and affordability of Education, first in Cote d'Ivoire and then across Africa

Together with Enel Green Power, Seedstars will launch the Africa Energy Track in more than 20 cities in Africa to find the best entrepreneurs across Africa who are looking at innovative solutions to electrify Africa. The selected entrepreneurs will invited to joining Seedstars Growth (Seedstars' acceleration program), and Enel Green Power will support them through commercial agreements and partnerships

Together with Merck Group, Seedstars will source the most innovative seed-stage companies with a focus on the fields of healthcare, life science and performance materials across MENA and Africa. The chosen companies receive office space in the respective accelerator location – the Merck Innovation Center in Darmstadt or the Metta in Nairobi. Besides workspaces, startups in both programs receive mentoring and coaching on a regular basis, from a pool consisting of more than 50,000 experts from 67 countries. Furthermore, the teams get financial support of up to €50,000.

Together with BBVA Group, for the 3rd time in a row, Seedstars will source the best Fintech startup, particularly in LATAM. Winners will then be supported by both BBVA and Seedstars to grow their businesses to the next level.

Pierre-Alain shared with us his views on the recent announcements: "We believe it is fundamental that companies access these high growth opportunities and get the first mover advantage, so with the support of partners such as The Office for Economic Affairs (SPECo), PayU, TRECC, Intel, FedEx, BBVA,
Switzerland's Federal Department of Foreign Affairs (FDFA), pursuing Seedstars' vision to impact the lives of millions in emerging markets through technology and entrepreneurship, the group will continue to expand our network of physical spaces in the coming months."
About Seedstars
Seedstars is a Swiss based group of companies which has the goal of impacting people's lives in emerging markets through technology and entrepreneurship. Seedstars connects stakeholders within these ecosystems, builds companies from scratch with public and private partners and invests in high growth startups. Through different activities of startup scouting, company building and acceleration programs, the team has now access to entrepreneurs, investors, incubators, corporations and government officials from 60+ countries. The Seedstars group includes Seedstars World, a worldwide startup competition, sourcing in 60+ emerging markets the top talent from these regions; Seedstars Growth, a three month virtual acceleration program; Seedspace a network of coworking and co-living spaces now in 25+ countries and Seedstars Academy, a six months program to train aspiring local entrepreneurs to build sustainable businesses.
Press Contact:
High-resolution photos, logos, as well as press information and interview options are available on demand. Feel free to contact the following representatives:
Tom Vaillant Igor Ovcharenko Daria Golikova
Head of Marketing Media Relations Media Coordinator
tom@seedstarsworld.com igor@seedstarsworld.com daria@seedstarsworld.com
+33769139615 +41792533066 +41792805753
Source: Igor Ovcharenko- Media Relations
Tags