Philadelphia Tech Company Creates Football Fan Sentiment Tool to Track Excitement Levels Leading Up to the Big Game
The fan sentiment tool assigns a score to each fan tweet to help determine if the tweet is positive or negative.
Press Release
-
updated: Feb 2, 2018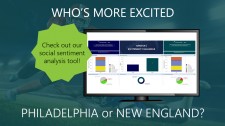 Philadelphia, PA, February 2, 2018 (Newswire.com) - ​​​Arkieva, a leading provider of supply chain planning software for manufacturing companies, today announced the creation of a Sentiment Analysis Dashboard to track fan excitement levels.
With offices in Philadelphia, Pennsylvania and Wilmington, Delaware, Arkieva, a 25-year-old supply chain software company, has a long-standing history of creating planning software solutions that help manufacturers plan to better meet demand. As part of this offering, Arkieva offers a Sentiment Analysis tool that allows businesses to track product and customer sentiments from social media websites such as Twitter.
Building the Fan Sentiment Analysis Tool
The team at Arkieva set out to prove or disprove that Philadelphia fans are more excited about the Big Game than New England fans. To do so, they created a dashboard for tracking the sentiment of team fans using the company's existing technology for tracking social sentiment.
"We wanted to use our social sentiment analysis tool in a different form. Our customers often use our social sentiment tool to help better sense demand in the marketplace so that they can plan accordingly. For our Fan Sentiment Analysis, we employed the same technology for tracking keywords relating to the different teams. It's been fun, tracking the sentiment scores and fans that seem to show more excitement according to our sentiment analysis tool," says Hellen Oti-Yeboah, Marketing Manager, Arkieva.
Sentiment Scores
The Arkieva Fan Sentiment Analysis Tool assigns a score to each tweet received for tracked keywords or hashtags, and then, assigns a positive or negative sentiment score based on the tone of the message. The sentiment scores rank from 0.1 – 0.9. The closer you get to 1.0, the more positive the message is deemed.
Determining the winning team for each day
The rules to win the excitement level challenge using the sentiment tool is as follows:
·       A team had to reach the mark of 1000 posts within the given day
·       And should have a sentiment score of 0.6 and above
About the Arkieva Customer Sentiment Tool
The Arkieva customer sentiment tool allows customers to track, analyze, and align customer social sentiments with demand plans in real-time. The tool does this by assigning a positive or negative sentiment score to each social media post allowing supply chain planners and marketing departments adjust to changing market demands. To learn more visit: arkieva.com/software/customer-sentiment-analysis
About Arkieva Supply Chain Software
Arkieva is more than a supply chain software technology company. We are a team of dedicated supply chain consultants helping global and national manufacturers transform supply chain complexities into a competitive advantage — one supply chain link at a time. With over 15,000 users worldwide using Arkieva in 250 unique applications, the Arkieva Supply Chain Planning Software Suite offers a robust solution supporting a full range of needs for Sales and Operations Planning (S&OP). The Advanced S&OP management features of Arkieva include a Collaborative Demand Manager, Inventory Planner, Inventory Analyzer, Supply Planner (full optimization), Replenishment Planner, S&OP Central, and Finite Scheduler. Arkieva is used in some of the world's largest corporations, including Driscoll's, Sunsweet Growers, Gates, AkzoNobel, Linde, Owens Corning, Momentive, Continental Foods, SPI Pharma, Cytec, CF Industries, Linxens, Cardone, Federal-Mogul, Wonderful brands, and Ontex. Visit (www.arkieva.com) to learn more.
Arkieva Media Contact
Hellen Oti-Yeboah, Marketing Manager
hyeboah@arkieva.com
302.861.202
###
Source: Arkieva
Share:
---
Categories: Marketing, Sports, Fitness, and Recreation, Social Media, Supply Chain Management, Football
Tags: demand planning software, demand sensing software, new england patriots, philadelphia eagles, promotions planning software, s&op software, sentiment analysis, social media, supply chain
---