AkzoNobel Specialty Chemicals Achieves a One-Plan Harmonized S&OP Process With Arkieva
The harmonized planning system delivers a single-source planning process; providing AkzoNobel Specialty Chemicals with real-time visibility.
Press Release
-
updated: May 2, 2018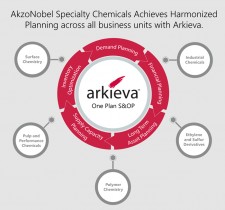 WILMINGTON, Del., May 2, 2018 (Newswire.com) - Arkieva, a leading provider of Supply Chain Planning Software Suite for manufacturing companies, today announced that AkzoNobel Specialty Chemicals has implemented the Arkieva Software Suite to create a One-plan harmonized S&OP process.
Industries worldwide rely on essential chemistry from AkzoNobel Specialty Chemicals in the manufacture of everyday products such as paper, plastics, building materials, and personal care items. AkzoNobel has five Business Units – Ethylene and Sulfur Derivatives, Industrial Chemicals, Polymer Chemistry, Pulp and Performance Chemicals and Surface Chemistry. Achieving a harmonized S&OP process involved creating a common planning system for all Business Units with Arkieva.
Starting the Journey to Harmonized Planning
As one of Arkieva's oldest clients, AkzoNobel Specialty Chemicals began their S&OP improvement in 2001. The Specialty Chemicals business units previously used a variety of solutions to manage demand planning and inventory optimization, including both software and spreadsheets. With the Arkieva One-Plan implementation, the company now has a harmonized supply chain planning process – bringing everyone into a single system for planning and measuring metrics.
"The Arkieva solutions together with the competencies of the Arkieva consultants have provided us the possibility to implement a strong toolset for our tactical planning without having our process definitions dictated by a system vendor. Arkieva has provided a good standard platform which we together have designed to fit our needs," says Jo Shepherd VP Supply Chain Specialty Chemicals, AkzoNobel.
Arkieva One-Planning for All Business Units Under AkzoNobel Specialty Chemicals
In 2016, the team at AkzoNobel Specialty Chemicals embarked on a journey to build a harmonized system across all Business Units, starting with Demand Forecasting, with a primary objective to allow users to collaborate in real-time, plan, and create reports from one single environment. This project eliminated the need for manual Excel spreadsheets.
"We are impressed by the company's commitment to providing improved collaboration and visibility even as you move higher up within the organization. The partnership with Arkieva shows the dedication of AkzoNobel Specialty Chemicals to delivering innovative products in the chemical manufacturing space while having streamlined processes that allow for better service levels. Simply put – we are extremely honored to be part of this journey. AkzoNobel has been able to achieve an enviable level of S&OP maturity with their supply chain that many businesses only dream of achieving. The progression and results have been amazing to see!" says Shankara Gurumurthy, Supply Chain Optimization Practice Director, Arkieva.
One-Planning Process
The AkzoNobel Specialty Chemicals division now has a harmonized planning process using the Arkieva Supply Chain Planning Suite. The one-plan S&OP process begins with an integrated model that carries out demand, inventory, supply, financial planning and S&OP reporting for the entire business. The multi-user collaborative features of Arkieva allow 1500+ global users including on-the-road sales managers access in the Asia Pacific, Europe, and North America at different security levels while providing offline Excel integration and collaboration.
Arkieva One-Plan Benefits Include:
· Harmonized S&OP process across all AkzoNobel Specialty Chemicals Business units.
· Integrated financial planning system used by Controllers and Financial Analysts to create and manage budgets.
· Event-based triggers to alert planners and key stakeholders of possible disruptions across the Supply chain.
Future Outlook
The team at AkzoNobel employs a continuous improvement strategy that allows for ongoing enhancements to existing processes. AkzoNobel Specialty Chemicals is looking to use Arkieva's web-based dashboards to enhance visibility and decision-making in the near future.
About AkzoNobel Specialty Chemicals
Industries worldwide rely on our essential chemistry in the manufacture of everyday products such as paper, plastics, building materials, and personal care items. Building on the dedication of our employees and our shared commitment to safety, sustainability, and open innovation, we have established a world-class business and built strong partnerships with our customers. We operate in over 80 countries around the world, and our portfolio of industry-leading brands includes Eka, Dissolvine, Trigonox, and Berol. 
About Arkieva Supply Chain Software
Arkieva is more than a supply chain software technology company. We are a team of dedicated data scientists, software developers, and supply chain optimization consultants with one simple goal – to help manufacturers improve results through better supply chain planning. To achieve this goal, we create the link between people, process, and technology by providing easy-to-use, configurable, collaborative planning solutions that encourage a more synchronized planning process. 
Arkieva Media Contact
Hellen Oti-Yeboah, Marketing Manager
​hyeboah@arkieva.com
302.861.2022
###
Source: Arkieva
Share:
---
Categories: Chemicals, Supply Chain Management, Manufacturing
Tags: akzonobel, arkieva, chemical industry supply chain, s&op software, S&op software features, s&op tools, specialty chemicals supply chain, supply chain management software example, supply chain planning software, supply chain planning systems, supply chain software companies
---