Pharma Supply, Inc.'s PetTest Brand Launches New D-Mannose Supplement for Urinary Tract Health in Pets
Press Release
-
updated: Nov 13, 2019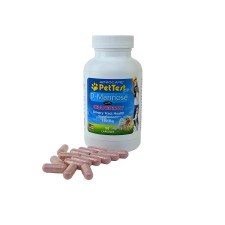 WELLINGTON, Fla., November 13, 2019 (Newswire.com) - Announcing some very exciting news from PetTest! There is a new addition to their Pet Products line: D-Mannose is the "new kid on the block."  What is it, and what is it for? If a pet is susceptible to Urinary Tract Infections (UTIs), then this new product is the perfect remedy.
The beauty of D-Mannose is that there is no boost to Blood Glucose (BG), and even though it is a sugar, there are no side effects that researchers can find (keeping in mind that all dogs and cats are different). There are no known drug interactions, and it seems to be the perfect supplement for dogs and cats (diabetics included).
Here's how it works:
Most UTIs are caused by E. coli bacteria. E. coli bacteria are covered in tiny "finger-like" projections (called lectin) that allow them to stick to the walls of the bladder. Since they "stick" there like Velcro, they won't simply wash out of the bladder during urination. One of the reasons that D-Mannose is so effective is that lectin binds to it and prevents the E. coli from adhering to the walls of the bladder and urinary tract. When the D-Mannose is present, the E. coli will adhere to it instead of anything else. PetTest has taken this even further and added cranberry for even more urinary tract health benefits.
Give pets D-Mannose last thing at night so it sits in the bladder overnight and keeps those UTIs away.
PetTest's D-Mannose supplement is another thoughtful addition to the company's growing line of canine and feline diabetes supplies, inching ever closer to becoming a true one-stop-shop for all of their customer's needs. Available today at ShopPetTest.com.
Source: Pharma Supply, Inc.
Share:
---
Categories: Pets
Tags: cat diabetes, d-mannose, dog diabetes, pet diabetes, pet supplements, PetTest, supplements, urinary tract health, UTI
---