Permanent Site for China-ASEAN Education Communicating Week in Gui'an New Area Has Completed
Press Release
•
Sep 21, 2016
Investment Promotion Bureau of Gui'an New Area from China is introducing the New Area Gui'an to the public for investment opportunities.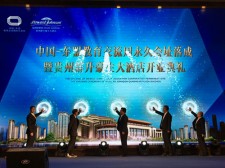 Guangzhou, China, September 21, 2016 (Newswire.com) - ​Inauguration Ceremony for the permanent site of China-ASEAN Education Communicating Week was held in China-ASEAN International Meeting Centre in Gui'an New Area on 10th September, 2016. With the overall floorage of about 70,000 ㎡, the Site has planned the round-table conference that offered the service of simultaneous interpretation of six official languages (China, English, French, Russian, Spanish, and Arabic) in the United Nations, a super assembly hall with 3,000 seats, Centre of Press Conference, International Art Exchange Centre, and show centre for the urban planning of the university town.
The China-ASEAN Education Communicating Week was held to deepen the cultural and educational exchanges between the two sides and it has been successfully held for nine times. Hosted by Chen Baosheng (minister of China's Ministry of Education), the 9th China-ASEAN Education Communicating Week and the 2nd China-ASEAN Round-Table Conference for Ministers of Education have been successfully convened in Guizhou. The Communicating Week has convened more than 3,000 conventioneers from political circles, industrial circles, and educational circles among the China-ASEAN area to together discuss the theories and policies in regard to the issues of education, economy, and culture.
As an important platform for the opening-up of Guizhou province, the China-ASEAN Education Communicating Week was also a crucial window for the opening-up of Gui'an New Area. The completion of the permanent site of the Communicating Week would definitely further push the exchanges and cooperation between China and ASEANs forward and promote the development of the education, technology, and culture, and therefore benefiting the peoples among the area and serving the national diplomatic strategies.
(Contact information of Gui'an New Area: zc@gazstop.com, zcc@gazstop.com)
Source: Investment Promotion Bureau of Gui'an New Area
Related Media