PerkettPR Rebrands as Mindfull Marketing + PR
New brand name, look and feel reflect the award-winning agency's expanded integrated marketing services
Press Release
-
updated: Oct 17, 2018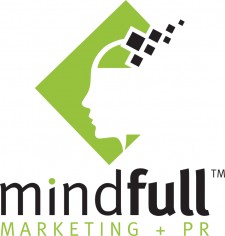 BOSTON, October 17, 2018 (Newswire.com) - PerkettPR, an award-winning provider of results-based public relations and strategic marketing communications, today announced that on its twentieth anniversary, it has rebranded to Mindfull Marketing + PR. The agency unveiled a new logo, name and website that further demonstrate the scope of integrated marketing services that it provides to clients around the world in technology, business, healthcare, consumer and higher education. Christine Perkett remains CEO.
Founded in 1998 by Perkett, Mindfull Marketing + PR provides exclusively senior-level strategic counsel and preeminent execution of public relations and marketing programs that clearly and consistently deliver return on investment. Its selective client roster has spanned the globe – from Australia to Norway, London to San Francisco and more. Clients have included WebEx, Constant Contact, Juniper Networks, St. Louis Children's Hospital, Clavis Insight, Northeastern University, Octo Telematics, Life is Good, Quiet Revolution and many more.
"Brands need a team that understands that the way to engage their consumer is constantly evolving," said Rebecca Tarantino, marketer and two-time former client of PerkettPR. "Christine and her team shine in the most complex go to market environments, having the unique ability to devise marketing strategies that cut through the clutter to engage and convert at every level. I think the move to rebrand to Mindfull Marketing + PR is another example of this insight - demonstrating the agency's integrated capabilities across the marketing ecosystem."
The agency has been recognized with numerous industry awards including multiple Bell Ringers from the Publicity Club of New England including Best TV Placement, National Commentary, Response to Breaking News, Consumer Campaign and more; a "Golden Image" nod from Forrester Research, "Best PR Executive" from the American Business Awards, Best of the Best" PR firm by PR Sourcecode, and was a finalist in the prestigious Techcrunch Crunchie's the only year it honored tech PR firms. Mindfull Marketing's full scope of services include branding services, content marketing, digital media and advertising, SEO, writing services, PR, sales support, social media, training, events and fractional CMO services.
"When I founded the company, our focus was almost exclusively on tech PR but quickly expanded as our solid reputation grew and the market needs changed," said Christine Perkett, CEO of Mindfull Marketing + PR. "Over the last 10 years, our talented team has been delivering a wider scope of action-oriented content and integrated campaigns that companies require in today's digital world. The rebrand better communicates our ability to grab the attention of highly distracted and divided audiences - helping businesses and institutions to thrive in a competitive market and delivering a marketing blueprint for success."
For more information on the thought behind the name change, read Christine's blog about the announcement.
Boston-based Atomik Design worked with Mindfull Marketing + PR on the logo and website.
About Mindfull Marketing + PR
Mindfull Marketing + PR is an award-winning integrated marketing and PR agency that manages brand reputations and promotes and grows businesses. Offering superior service from a team of senior-level professionals that execute both strategy and tactics, we apply expertise across a wide range of marketing and communications disciplines to deliver efficient, consistent and groundbreaking marketing communications campaigns.
With the foresight to rapidly adapt and stay ahead of an ever-evolving market, we help clients achieve their business goals. Formerly PerkettPR, Mindfull Marketing + PR has been nationally recognized for exceptional client results, business leadership and innovative human resources initiatives for over 20 years. For more information, visit www.mindfullmarketing.com
-30-
Contact:
Christine Perkett
781.834.5852
cperkett@mindfullmarketing.com
Source: PerkettPR
Share:
---
Categories: Marketing, Public Relations
Tags: #BostonPR, #branding, #contentmarketing, #digitalmarketing, #marketers, #marketing, #PR, #publicrelations, #rebrand, #techPR
---