Perfectial Becomes One of the First Residents of Innovation District IT Park
Press Release
-
updated: Jul 4, 2019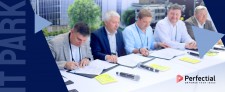 BOSTON, July 4, 2019 (Newswire.com) - Perfectial has confirmed its residency in the biggest local infrastructure project – Innovation District IT Park. On June 28, 2019 during the Lviv IT Jazz conference, Perfectial's CEO Andriy Skoropad signed the preliminary rental agreement and thus established Perfectial as one of the key residents of the upcoming facility, a project initiated by Lviv IT Cluster. According to the developer organization, the construction will start in autumn 2019 with the first buildings opening in late 2021.
Innovation District IT Park is a business-purposed neighborhood with designed office spaces, business center, local universities premises and labs, a shopping mall, hotel, kindergarten, event hall, etc. It will become a residence to over 10000 tech specialists and dozens of businesses.
The first stage of the construction will have been completed by the end of 2021 and is supposed to include six 8-storeyed office buildings, an 18-storeyed business center, a 2000 sqm computer lab complex and a multifunctional center with a food court, a mall and a gym.
According to the preliminary rental agreement, Perfectial has booked 6000 sqm of office spaces that will be able to house around 600 employees. This step coincides with the company's growth ambitions, reveals Perfectial's Co-founder and CEO Andriy Skoropad.
"IT Park is the next step for Lviv economy, as the tech industry impacts many other domains. New workplaces will be created, the project will attract even more talents from all over the country to Lviv. Innovation District IT Park is a base for future growth and I'm sure that our city and its inhabitants will feel the positive impact as soon as the first buildings will have been presented to the public," adds Skoropad.
During the event, developers and architects presented the latest design visualizations of the Innovation District buildings. IT Park has been made even more sophisticated, with modern and sleek glass facades representing the present innovation-driven face of ancient Lviv.
In June 2018 members of Lviv IT Cluster, who initiated the project, together with the investors officially planted a capsule on the territory that soon will become one of the biggest innovation hubs in Ukraine. The project has landed 180 million USD of foreign investment, with international companies Galerija Centre, Brookfield & Partners and Horizon Capital being among the investors.
About Perfectial
Perfectial, one of Europe's leading software development vendors, helps companies reinvent business processes, leverage the latest technologies, and completely embrace digital transformation. It offers businesses, of various sizes, a wide range of web application development, AI implementation, blockchain, UX, cloud & SaaS, computer vision applications, and mobile app creation services.
Source: Perfectial
Share:
---
Categories: Business to Business
Tags: Dedicated development team, software development company, team augmentation, team extension, web applications
---