Pendo Systems Named as a Global Fintech Power 50 Company at SIBOS 2018
Selected from more than 400 companies
Press Release
-
updated: Oct 22, 2018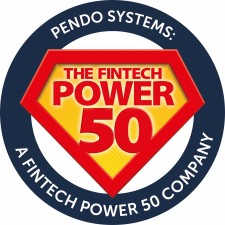 MONTCLAIR, N.J., October 22, 2018 (Newswire.com) - Pendo Systems today announced they have been selected as a Fintech Power 50 company following a global process in which more than 400 companies were nominated by their peers in the industry and over 5000 votes were cast. Fintech Power 50 members are considered to be the most influential, innovative and powerful figures in the Fintech industry, all playing leading roles in transforming financial services for the better.
The Fintech Power 50 consist of 40 breakthrough Fintech's and 10 individuals considered to have done the most to evangelize and represent the best of the Fintech ecosystem. Even in the latter category, Pendo Systems was a winner, with Board Member, Ruth Wandhofer, a noted Fintech speaker/thought-leader also selected as a Fintech Power 50 Influencer.
"I'm thrilled the team here at Pendo have had their hard work and dedication recognized by a jury of their peers. The team constantly works to build and improve on what is a genuinely breakthrough technology platform, so I'd like to dedicate this win to them. That my good friend, and trusted board member Ruth was recognized at the same time is simply the cherry on top of the icing on top of the cake," Pamela Pecs Cytron, CEO, Pendo Systems.
The Pendo Platform is an enabling technology that makes unstructured data both addressable and machine-readable so it can be easily consumed by AI/ML solutions, downstream BPM/RPA systems, and workflow solutions. The challenge in business is 80 percent of the data businesses generate is unstructured, and it's growing at more than 800 percent per year. Businesses need a production tested, machine scale tool like the Pendo Platform to quickly, accurately and repeatably transform their unstructured data into structured data.
About Pendo
The Pendo Machine Learning Platform is a data management and discovery platform. It transforms unstructured data into machine-readable datasets at machine scale and significantly improves on standard NLP libraries by applying real-world, customer training data. Headquartered in New Jersey with offices in Charlotte, North Carolina, the senior management team brings decades of experience developing, selling and supporting enterprise-grade software solutions to global banks, insurance companies, and asset management firms.
Source: Pendo Systems
Share:
---
Categories: Credit Services
Tags: AI, Big data, Fintech Power 50, machine learning, Pendo Systems, Unstructured data
---