Peer Ledger and PAMP Announce a Comprehensive and Inclusive Solution for Optimal Management of Global Supply Chain Risks
Usable Metal Fingerprinting Technology and Extensive Blockchain Application for Responsible Sourcing of Minerals
Press Release
-
updated: Sep 4, 2018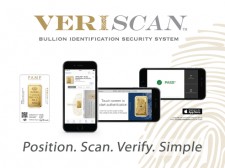 HALIFAX, Nova Scotia, September 4, 2018 (Newswire.com) - Today, Peer Ledger and Produits Artistiques Métaux Précieux (PAMP) publicly announce the creation of a strategic alliance that combines their cutting-edge technologies for authentication of precious metal products as well as a blockchain model and heightened trust for responsible sourcing to provide best-in-class tools for the management of global supply chain risks.
PAMP, a leading global bullion brand and a trusted refiner and fabricator of precious metals, has also made a significant strategic investment in Peer Ledger, a Canadian blockchain company creating Responsible Sourcing software for supply chains. PAMP is part of the MKS PAMP GROUP, one of the world's leading privately held precious metals trading, refining and fabricating groups. "Our vision is for our combined technologies to coalesce the precious metals industry around a comprehensive solution to numerous issues, from legitimization and empowerment of artisanal miners through user-friendly registration of their production, to authentication of production at mine sites through to refiners, vaults, manufacturers as well as end users and consumers." – Mehdi Barkhordar, Vice Chairman, MKS PAMP GROUP
Reinforcing the company's unwavering commitment to responsible sourcing in precious metals supply chains, PAMP has integrated the MIMOSI Responsible Sourcing APIs and augmented its precious metals trading technologies with blockchain, thereby adding a blockchain model and heightened trust for responsible sourcing in the backend of its business. The MIMOSI blockchain enables auditors and regulators who might want to verify the responsible sourcing practices to do so more cost-effectively and intuitively while increasing the integrity of the data. Moreover, PAMP's customers will be able to securely obtain both provenance and authentication information by simply scanning a precious metal product with its innovative VERISCAN® iPhone app. Together Peer Ledger's and PAMP's user-friendly technologies will effectively assure that precious metal supply chains are free of counterfeit materials, as well as enable stakeholders to know the provenance of precious metals at each step of the supply chain.
The MIMOSI Responsible Sourcing Platform is a set of API-based tools that enable clients to add Hyperledger Fabric-based blockchain provenance, authentication and track-and-trace capabilities to their existing supply chains, vendor management systems, customer relationship systems, e-commerce and retail systems. A complementary MIMOSI SaaS portal provides a web interface for users to access other functionality, including industry-specific questionnaire management, upload of various documentary evidence to support due diligence and certification, and useful visual traces of items, their suppliers and associated blockchain track-and-trace transactions. Furthermore, we are committed to fully implementing OECD and other industry standards for sharing sustainability risk data across other tracing systems as these standards emerge.
Dr. Dawn Jutla, CEO of Peer Ledger, said, "The precious metals industry is currently facing three critical ongoing challenges to which Peer Ledger and PAMP propose a breakthrough solution. The first critical challenge is gaining accurate and verifiable tracing of precious metal products back to the original sources to help address the full traceability expectations of key stakeholders in the supply chain, including consumers. The second critical challenge is to prevent the entry of counterfeit precious metal products in the supply chain. The third critical on-going challenge is to deal with environmental, social and governance factors, particularly the quality of human life, e.g., working conditions, impact on children, modern slavery and mercury use, in the countries where precious metals are sourced.
"Before today, the economic, environmental, social and governance risks were difficult to manage because current documentation processes and control systems in place leave gaps in materials traceability, which are compounded by the incompatibility in practices across systems. These challenges span dozens of industries and mean the vast majority of companies are unable to identify and lower risks in their supply chains. PAMP's VERISCAN® and the MIMOSI SaaS with its public Responsible Sourcing APIs enable supply chains of all types and sizes to strengthen risk controls. These provide trusted interoperability for sourcing information within supply chains while enabling brands to provide answers to their consumers and investors." 
About PAMP SA
PAMP is the world's leading bullion brand, with dominant positions in the world's major precious metals markets. Established in 1977 and based in Ticino, Switzerland, PAMP operates a state-of-the-art precious metals refinery and fabrication facility. Known primarily as major fabricators and distributors of industrial and investment gold bars and coin blanks, clients include international gold mining companies, the jewelry industry, government mints, central and commercial banks and wholesale distributors. PAMP is an integral part of the MKS PAMP GROUP and, as such, operates closely with MKS (Switzerland) S.A., a leading, global precious metals and financial services company based in Geneva. With more than 50 years of trading expertise to support it, MKS (Switzerland) S.A. covers all financial and trading aspects of precious metals primarily for institutional investors. The MKS PAMP GROUP's global reach, vertical integration and market specialization enable it to service its clients with unparalleled market-flow information.
About Peer Ledger Inc.
Peer Ledger of Halifax, Nova Scotia, Canada, specializes in the use of cutting-edge blockchain technology to help companies increase trust in their governance of economic, environmental and social factors in their operations. Peer Ledger 's MIMOSI Blockchain application enables companies to do responsible sourcing, increases trust in goods and services' safety, and facilitates industries to claw back hundreds of millions of dollars in lost revenue due to counterfeiting. Peer Ledger's Identity Bridge product enables easy onboarding and high assurance identity maintenance of employees, customers, partners and regulators onto blockchain applications.
CONTACT:
OLIVIER DEMIERRE, SVP Special Projects 
PAMP SA 
​olivier@mks.ch 
T +41 22 818 52 00 
DAWN JUTLA, CEO
​Peer Ledger Inc.
​dawn@peerledger.com  
T +1 902 452 6140
Source: Peer Ledger Inc.
Share:
---
Categories: Supply Chain Management, Corporate Social Responsibility, Risk Management
Tags: Blockchain, Conflict Minerals, Ethical Sourcing, MIMOSI, OECD Due Diligence, PAMP SA, Peer Ledger, Responsible Gold, Responsible Minerals, Responsible Sourcing, Responsible Supply Chains, Veriscan
---