Payton Alexander, Age 10, is News-O-Matic's 2016 Kid of the Year
A Texas girl wins NOM's 5th annual award for her service to her community and for supporting the families of the fallen officers in Dallas.
Press Release
-
updated: Dec 19, 2016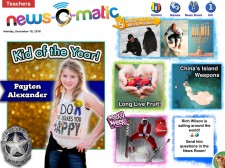 New York, NY, December 19, 2016 (Newswire.com) - Thousands of young readers voted for the News-O-Matic "Kid of the Year". They elected Payton Alexander from Glen Rose, Texas, as the winner for 2016! Payton joins Malala Yousafzai (2012), Vivienne Harr (2013), Mo'Ne Davis (2014), and Madison Tevlin (2015) as the children making the biggest differences in the world.
Payton, age 10, made $11,000 in just one day with a lemonade stand this summer. Then she gave it all away! Payton was raising money for the families of the police officers killed on July 7 in Dallas. "I wanted to do something," Payton said. Funds from her stand, "Back the Blue," went to the families of the fallen officers. "I'm just glad I was able to support them through all the hard things they were going through," Payton said.
Just keep doing what you're doing, and show kindness and compassion to other people.
"All of the 'Kid of the Year'
candidates
had great causes," wrote 14-year-old
News-O-Matic
reader Katrina. "But Payton should win," explained the 14-year-old in the News Room. "The fact that she raised $11,000 in just one day is nothing short of amazing."
"Payton is a sweet young lady with a loving and giving heart," wrote voter BrookLynn, age 10. "She is always thinking of others!"
"Payton was an inspiration to our entire newsroom in New York City," said News-O-Matic Editor-in-Chief Russell "Russ" Kahn. "She represents the best of youth engagement," he explained. "Payton reacted to the news by taking concrete action and found a way to galvanize her community and create a powerful positive reaction."
Payton didn't know she was the winner until a school assembly. Her teachers brought her on stage in the auditorium. Kahn broke the news, and the students cheered! Payton had a message for young readers. "Just keep doing what you're doing," said the fourth grader. "And show kindness and compassion to other people."
About News-O-Matic
​News-O-Matic is the Daily News Just for Kids. Its app is available on iOS and Android, and schools subscribe at www.newsomatic.org. News-O-Matic is an exciting and engaging nonfiction experience, giving young readers a window into the world — and a reason to love reading on a daily basis. The tool allows students to make connections in meaningful ways and gives them a voice to communicate with peers across the planet. The app has more than 3 million downloads from 150 countries. With News-O-Matic, reading proficiency grew by 26% in two pilot classes.
Media Contact:
Russell Kahn​​, Editor in Chief, News-O-Matic
Email: russ@press4kids.com
Office: 646.329.6593 / Cell: 646.226.0241
Source: News-O-Matic
Share:
---
Categories: Books, Multi-Media, K through 12, Children's Issues, Awards, Literacy
Tags: Dallas, Kids, Lemonade, News, Police, School, Texas
---