PAVE Launches Initiative Changing College Campus Culture: The Red Zone Campaign
An Interactive Campaign Providing Support, Education, and Resources for Survivors of Campus Sexual Violence
Press Release
-
updated: Oct 26, 2020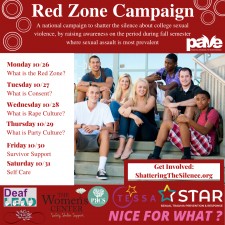 CHICAGO, October 26, 2020 (Newswire.com) - Did you know that statistically more than 50% of college campus sexual assault incidents occur between mid-August and Thanksgiving Break? This time frame during the first semester of college with statistically heightened instances of sexual assault is called the red zone.
The Red Zone Campaign is a national campaign dedicated to raising awareness and shattering the silence about college sexual violence, specifically by raising awareness on the period during fall semester where sexual assault is most prevalent. In this crucial time of increased virtual connection, the Red Zone Campaign (October 26-31) was created to raise awareness, educate, research, and provide reform for the increased rates of sexual violence on campus between mid-August and Thanksgiving Break.
A PAVE advocate and college campus survivor said, "As a survivor of college sexual violence during the red zone my freshmen year, I want to express how important it is to educate on this topic. After talking with friends following my assault, we all realized that we never learned about the red zone, what is sexual violence, and even what is consent. I think if I had more education going into and in college, I would not have felt such extreme feelings of confusion and isolation as I navigated and healed from what happened to me. A campaign like this one is so important as it will start these conversations that students may never have had in the past. I also think it will make college campus survivors feel less alone."
Led by an advisory group of college students, PAVE has joined together along with other leading national and local nonprofit organizations focused on ending sexual violence. PAVE: Promoting Awareness, Victim Empowerment works across the country to educate about consent and help survivors thrive after trauma and has joined forces with Nice For What Mvmt, DeafLEAD, and many other leading victims' rights organizations dedicated to eradicating sexual assault, intimate partner violence, and all forms of sexual violence.
This week is dedicated to highlighting and supporting the voices of college advocates through engaging toolkits, live social media events and campaigns, petitions, and calls to action. The Red Zone Campaign also includes interactive videos and discussion points for people to start conversations with their friends, partners, and loved ones about consent, healing, and eradicating victim blaming while social distancing.
PAVE is a movement creating a world free from sexual violence and building communities to support survivors. PAVE empowers students, parents, and civic leaders to end sexual violence. Since 2001, PAVE has trained more than 50,000 college students and 10,000 professionals, including military service members, and maintains over 50 chapters and affiliates across the country. For more information on their work, please visit ShatteringTheSilence.org.
Take the red zone pledge and learn how to become a catalyst for change in your community, please visit: ShatteringTheSilence.org/Red-Zone.
Media Contact, PAVE's Director, Rachel Mackinnon: 877-399-1346, Ex 7
Source: Promoting Awareness, Victim Empowerment (PAVE)
Share:
---
Categories: Colleges and Universities
Tags: college, COVID, COVID-19, Pandemic, students
---