Parents Keep Stopping Brocton Central School District Teacher at Walmart
Press Release
-
updated: Dec 7, 2018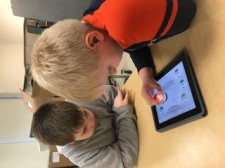 BROCTON, N.Y., December 7, 2018 (Newswire.com) - Jodi Huber, a teacher at Brocton Central School District, can't go to Walmart anymore without being stopped by her students' parents. One, in particular, the mother of a special needs child, was positively thrilled that her daughter had advanced in math and reading so much in less than a year that she was mainstreamed and no longer required as many special services.
It's becoming a regular occurrence around the community since Brocton CSD accepted a grant from National Education Foundation (NEF) and named Mrs. Huber the STEM Academy Director. The grant allowed Brocton CSD to introduce Individualized Learning mapped to state standards, Robotics, STEM contests, teacher recognition, student rewards, teacher and parent training, and SUNY certificates, as part of the unique NEF-SUNY (State University of New York) Total STEM System Solution (TSSS).
According to Brocton CSD Superintendent Jason Delcamp, "In less than 8 months, the vast majority of the cohort of students have already met their learning targets, and other classes are now asking to be part of the pilot. Through the total systems solutions approach of NEF, we have structured our program and have chosen a dynamic director to lead our STEM vision. It is absolutely awesome to see students engaged in their own personalized learning, setting goals and feeling success and gratification in doing so."
Initially, the school's expectation was to simply get their students on computers, with access to STEM resources in class and after school, and achieve at least 0.75-grade year growth.
In fact, because students loved the program so much, they exceeded the administration's goals, achieving more than a grade level growth in less than a year. Mrs. Huber reported that, at each session, students immediately wanted to see where they stood on the leader-boards and what incentives they had qualified for. Initially deployed in 4th through 6th grades, Brocton CSD has expanded it to include 3rd grade and 2nd grade in the second year.
Interestingly, the STEM programs quickly made their way outside of the traditional courses and into areas like social studies, where robots traveled Erie Canal with programming activities at each lock and city. Huber, who now teaches Kindergarten, also uses NEF robots to show proper letter formation, with great success.
Superintendent Delcamp is highly impressed with the student performance analytics he sees from the NEF programs. Not only did students grow dramatically during the school year, but they were also able to minimize the summer slide even though they did not have access to the STEM programs "73% of students who left 4th grade at a 6th-grade level retained that level when they started 5th grade. And the 27% who didn't fully retain, quickly caught up with their peers. That's incredibly promising," said Delcamp.
Brocton parents, who were shown the NEF program at Literacy Night, were extremely impressed by both the program and the results. They report that their kids want to use the program at home, share their experiences unprompted, and are generalizing the lessons across subjects.
A number of districts have come in to meet with Jodi Huber and Jason Delcamp to discuss the District's findings at superintendent conferences. "'Sounds too good to be true' is the most common reaction we get from our peers, but the results speak for themselves," said Jodi Huber. "Parents just want us to expand it into 7th grade and beyond."
Best of all, NEF and SUNY provide 80% grants for the STEM program to all interested school districts and schools, as part of their STEM VISION for AMERICA initiative!
Source: Brocton Central School District
---
Categories: Education
Tags: Brocton, Delcamp, Education, Grant, Kuttan. Ozobots, NEF, New York, Robotics, STEM
---