Panamax Inc. Revamps Its Corporate Brand Identity
Press Release
•
updated: Jun 21, 2019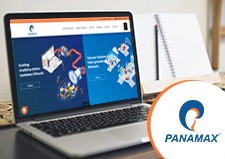 NEW YORK, June 21, 2019 (Newswire.com) - ​Panamax Inc, a leading global provider of telecom and fintech technology solution, announced the launch of a new logo and revamped website as part of a corporate rebranding drive. This change in brand identity after close to two decades is an indicator of Panamax's evolution as a brand to reckon with since the year 2001. Panamax has grown by leaps and bounds since its inception offering market-leading fintech and technology solutions to the customers across the world.
The new logo is a representation of growing focus on developing innovative technologies with the enthusiasm and agility to outdo itself.
Blue represents innovative technology which has been proved time and again with the strong product portfolio ranging from microservice based digital financial platform, unified communications solution to solid interconnect billing.
Orange colour in the logo is synonymous with the exuberant and skilled talent pool that lays the foundation of company's market expertise.
Manoj Jain, Chief Operating Officer at Panamax said, "We are very excited to add a fresh perspective to our logo syncing it with our global appeal. The new colors on our logo represent 'Stimulating Technology' through bright hues of Blue and Orange. We are very thrilled with the energy this new logo brings with itself and expect to flourish with the support of our expert team."
The rebranding of the Panamax logo and the website underscores the resolve to steer the business evolution towards exploring new business opportunities. The company looks forward to reinventing itself while being committed to its values, vision and mission.
Panamax also recently moved its corporate headquarters to Quentin Roosevelt Boulevard, New York in order to increase the service space for its flourishing team.
About Us
Panamax Inc. is successfully scaling the international markets and helping telecom operators, BFSIs, MNOs & MVNOs to do business with advanced technologies. The company delivers innovative technology and fintech solutions helping customers to streamline their business operations while generating new revenue streams. The robust Fintech product suite includes Digital Financial Solutions like MobiFin, Core Banking System, e-Lend, and MToolKit as well as Customer Value Management products like Campaign Manager and Loyalty & Rewards. The Telecom product suite offers Interconnect Billing, Roaming, Fraud Management, Revenue Assurance, and Class 4/5 switching solutions. For more information visit: https://www.panamaxil.com/
Source: Panamax Inc.
Additional Links