Panamax Inc. Announces Appointment of New Chief Sales Officer
Press Release
•
updated: Feb 15, 2019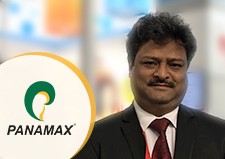 NEW YORK, February 12, 2019 (Newswire.com) - ​Panamax is very pleased to announce the appointment of Mr. Parag Agarwal to the role of Chief Sales Officer (CSO). Parag brings on board a strong expertise in the telecom domain and will lead overall global and regional sales operations to expand the geographic reach of Panamax.
Parag is an industry veteran with over 22 years of experience. Most recently, he played the role of Senior Vice President at 6D Technologies. Previously, he has worked for Kirusa and ORG Telecom where he held several senior sales management positions. Parag has a strong reach of CXO network in telecom, MNO, MVNO, and Financial institutions from across the world.
Mr. Parag Agarwal​ said, "I am delighted to join Panamax and look forward to driving the sales strategy which will effectively help in accomplishing the overall business goals. In addition to achieving regional and global sales milestones, I intend to devote significant time and effort in exploring new expansion opportunities in telecom, technology, and FinTech domains."
Mr. Bankim Brahmbhatt, the President & CEO of Panamax added, "I am excited to welcome a new member to the Panamax family. I believe that his leadership and sales representation will help us to improve our positioning to capitalize on the current market demand for diversified telecom and FinTech solutions. I look upon leveraging Parag's expertise, knowledge, and perspective in steering Panamax forward."
Parag's rich experience and proven track record as a seasoned sales professional will play an instrumental role in expanding the sales reach of Panamax. He will plan and monitor global go-to-market strategy, sales, and operations for the company's Telecom and MFS product and solution offerings. Parag's association with Panamax is invaluable in shaping the future sales activities and helping to secure a brighter future for the company.
About Panamax Inc.
Panamax Inc. is successfully scaling the international markets and helping telcos, carriers, MNOs & MVNOs to adapt to advanced technologies. Our Mobile Financial Solution 'MobiFin' enables telcos to roll out and manage mobile money services, microcredit, bill payment, international remittance and much more. Banks can deploy MobiFin to offer services like mWallet, mobile banking, subsidy distribution and agent/merchant payments. Our Business Support System product 'BillCall' provides carrier-grade billing platform and extends converged & interconnect roaming solutions with complete reconciliation, fraud management, and revenue assurance solutions. Our Network Switching Subsystem product 'iMax' is a class 4 integrated carrier switch and session border controller while 'Bridge2Call' is a class 5 enterprise retail switch with a communication platform to deliver VoBB, hosted PBX, Unified Communication, calling card, contact center solutions and DID retail services. Panamax has earned world-wide recognition for its disciplined efforts in bringing innovative technologies to the global platform. To know more visit https://www.panamaxil.com.
Source: Panamax Inc.
Additional Links