PakStyle.pk is Gearing Up Their Lawn Collection for 2017
Press Release
•
updated: Mar 6, 2017
PakStyle.pk is pleased to announce the addition of their latest 2017 spring-summer lawn collection from Pakistan's renowned textile brands.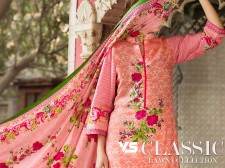 Karachi, Pakistan, March 6, 2017 (Newswire.com) - PakStyle.pk is pleased to announce the addition of the latest 2017 spring-summer lawn collection that includes embroidered lawn, classic lawn and digital printed lawn collections from famous brands such as Al-Zohaib Anum Lawn, Star Classic Lawn, VS Classic Lawn and more. The latest lawn collection is a blend of neutral tones that are combined with feminine and floral prints on light and soft fabrics available in fresh designs in vibrant colors.
What is Lawn Fabric?
Lawn fabric is a simple weave textile which originally comprised linen threads but, now it is chiefly made from cotton yarns. The fabric is made from thin and fine carded yarn thread counts. The fabric is prepared with an even weave which produces a smooth and un-textured surface. Lawn is a breathable fabric which is perfect for lightweight dresses. The fabric is perfect for summer and spring dresses and is currently being weaved in a wide range of designs and textures that fit the choice of every person.
Why Buy a Lawn Dress in Summer Season?
Lawn fabric is a very light weighted fabric which is mostly worn in summer and spring season. It includes a variety of designs and colors that are very comfortable in hot weather conditions. You can make tops and other dress that will not only keep you cool in the scorching heat but, will also keep you comfortable and elegant. The Lawn Collection 2017 at PakStyle.pk is the first lawn edition of spring-summer 2017 season where you will find a huge range of lawn dresses in different designs and colors.
Top Lawn Brands at PakStyle.pk
At PakStyle.pk, you will find a huge collection of top lawn brands that suits your dressing requirements. PakStyle.pk has made online shopping in Pakistan very simple and easy and now you can buy your favorite lawn dress from the comfort of your home.
Al-Zohaib Anum Lawn: Al-Zohaib Textile Anum Lawn is a famous for its abstract to floral and geometric designs that make it unique and attractive. The colors and designs are new and very refreshing and add in great value to feminine attributes. This lawn brand will be an inspiring collection in your closet.

MTF Embroidered Lawn: If you are looking for excellent embroidered lawn collection, then MTF Elegance Lawn Collection 2017 is your ultimate brand choice. Different types of embroidered lawn collection with different designs and colors give the attire a unique appeal.

Rashid Classic Lawn: Rashid Textile produces a wide range of lawn collection in wonderful hues and beautiful prints. With this Rashid Lawn Collection, you can look gorgeous and trendy. You can design either a lawn kurtis or a shalwar kameez along with several other ideas.

Star Classic Lawn: Star Classic Lawn by Naveed Nawaz Textile offers unique designs patterns and colors which are a perfect fit for the summer season. Naveed Nawaz Textiles is so popular among women due to their high quality fabric which is available at quite reasonable rates. The brand is very popular because they offer a wide range for all age groups.

VS Classic Lawn: VS Textile Mills specializes in manufacturing high-end Lawn products made out of the finest materials available with the help of the latest technology and equipment to meet the consumer's needs. VS Classic Lawn is manufactured in endearing shades along with adding in nature elegance in its designs. The color combinations are lively and are a perfect fit for all your causal and party wear needs.
About PakStyle.pk
PakStyle.pk is a rapid growing website for online shopping in Pakistan and is a one-stop shop solution where you can find a broad range of fashion apparel and accessories including Pakistani bridal dresses, lawn dresses, means clothing, Arabic fragrances, jewelry, wrist watches for men & women and many more. Besides offering a high end online fashion shopping experience, PakStyle.pk also believe in offering the best rates that are hard to find elsewhere among top online shopping sites in Pakistan.
Media Contact:
Kashif Iqbal
Phone: +92-336-2226632
Email: info@pakstyle.pk
Source: PakStyle.pk
Related Media
Additional Links